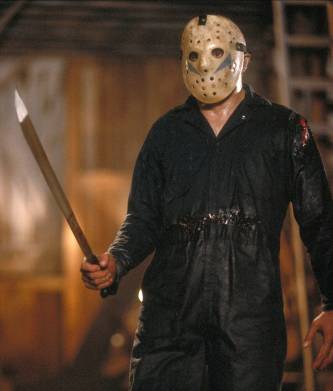 Costume Contests, Scream Contests, Trivia Contests are Part of the Horror Being Unleashed at Santa Monica's Aero Theatre!
Who
• Crazy fans in crazy costumes
• Devoted fans willing to blood curdingly scream their hearts out,
• Horror fan experts willing to take on trivia challenges
All in hopes of winning big prizes..
What
Four of the series 12 movies will be shown in celebration of
Warner Bros. Home Entertainment's  September 13 Blu-ray release
of Friday the 13th: The Complete Collection
When
Friday, September 13
5:30 p.m.
Where
Aero Theatre, 1328 Montana Ave  Santa Monica 90403

Why
The Friday the 13th films introduced a one-man killing machine named Jason Voorhees, and just like that masked slasher they've proven pretty near immortal
with 12 features spanning three decades.
The series surpassed the domestic theatrical box-office grosses of such legendary series as A Nightmare on Elm Street, Halloween and The Texas Chainsaw Massacre. The film that turned psycho killer Voorhees and his infamous hockey mask into a pop culture icon has also bested the horror competition as the #1 home entertainment seller with total sales of $119.7M to date. For the first time, all twelve films will be packaged together (with seven of them making Blu-ray debuts) when Friday The 13th: The Complete Collection debuts on Blu-ray™ this Friday, the 13th..
The evening is co-presented by Warner Bros. Home Entertainment, Bloody-Disgusting.com and Street Food Cinema: by arrangement with the American Cinematheque.
Please RSVP to:
carlsamrock@cs-pr.com 818-260-0777
day of: karenpenhale@cs-pr.com – 818/599-1588