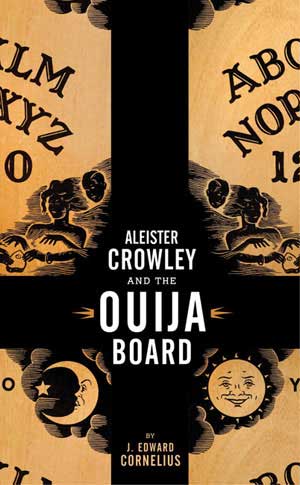 by J. Edward Cornelius
Published by Feral House
Publication Date: 2005
Format: Black /White – 172 pages
Price: $16.99
I was initially lured into wanting to review this book purely based in its tie-ins with Aleister Crowley. Though it actually turned into being alot more with its extensive history of the infamous Ouija board. Blanketed in sorrid tales, mystery and talks of spirit realms, the Ouija is perhaps one of the most intriguing instruments ever created. It also so happened that its sold to children and found in most toy stores. Why is it that Aleister became concerned and serious when ever the board was mentioned. Was it a deeper understanding of the magick forces behind it that he understanding and the public was naive to? Does the ignorance of consumers provide the saving grace of what real powers they may hold in there hands? J. Edward Conenelaius provides fact and fiction surrounding the illusive and fragmented history surrounding this unique instrument. I found several facts presented interesting if not eye opening.
The chapters tell of its ability based in its shape, purpose and configuration that opens its users up to the dangers of the lower astral plane and invisible invaders from beyond. Sounds like fiction to me, although there has always been a sort of hushed supernatural element of this instrument that seems taken for granted. Especially by children. The book goes on to tell of the original owners and how it changed hands due to financial crisis, disagreements and ownership quarrels. The device called the planchette is the small triangle device used to move from letter to letter. Even this device holds speculation in the original owners and influences for its design. As we know the board was eventually purchased by Parker Brothers and still to this day finds its way under Christmas trees.
Now I should mention that this book while indeed fascinating is really not so much an Aleister Crowley book as it is a instruction book on Ouija and esoteric magick practices. Most of the references to Aleister come in the form of "according to Aleister", "As Aleister stated"… and so on. The purpose of this book is to educate others in the dangers and ways of the spirit board. With easily the first half of the book covering as much about the board as is available. The 2nd half goes into more about the esoteric details of magick and practice. Most of this centers on the usage of the planchette as a spiritual device or window into the unseen beings. We are given much information as to what this all means and how these invisible beings can manifest to there liking. Meaning they are tricksters if it suits there needs. It also questions the very fabric of reality and how it all plays out. More details are given into the placement and ceremonial suggestions on using the Ouija board. In addition many tales are told of authors and educated individuals who have used its powers to invoke above normal creative offerings.
Conenelaius also takes us into a discussion of the living and dead. That our bodies are merely "shells" and how our spirit and bodies differentiate from each other. Important facts or theories essential to understanding of the plane of existence, the elementals and the worlds beyond are spoken of. Ghosts themselves are revealed as just repetitions of a tragic moment caught between planes.
We are told about "Watchtowers", faculty of Abrac", the Qabalistic tree of life", "the entity Choronson", enochian rituals" and much more extended information on the travels of John Lee. The book gets into much deeper subject matters in its relationship to some of Aleister's teachings to round off this spiritual journey.
Much of this might require additional revisits to the information presented as it gets into areas that sound more like religious fantasy than familiar areas that one can grasp onto. Whether you believe it or not, it's pretty evident that the author does and for that alone it deserves attention. I found the ideas pretty intriguing and worth further investigation. A greatbook on Ouija teachings. If you get anything from this book, you should at least heed the words that Ouija boards are not to be taken lightly and are always potential doorways into unknown territory.
Available at Feral House