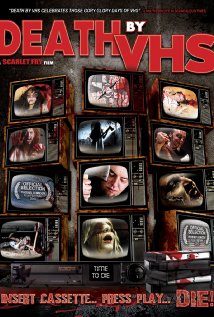 SYNOPSIS:
A battered and mysterious VCR…A bevy of lethal video- tapes… These are the building blocks of horror in "DEATH BY VHS". A mind blowing descent into madness and death. Five shocking vignettes, designed to take your sanity and devour your soul! Mild curiosity leads to severe consequences when a couple rents a supposedly cursed video cassette recorder. An urban legend renowned for leaving a trail of agonizing and torturous death. Unbelieving, they take the plunge… And another legend is horrifyingly born… Do you dare give fate a winning hand, and test yourself against the hellish consequences of the VHS machine? Insert Cassette Press Play…DIE!


REVIEW:
In this latest release by creators Scarlet Fry, Jacob D. O'Neal and David Sabala, we revisit studio Chemical Burn's ever fascination with anthology style story telling. The sound needs some work as the levels bounce all over the place, but its clear that the team is making "some" progression in their quest for creating horror films. It was communicated that since my viewing, the sound has been improved and up to standards. However, that aside, it's really not the issue here.
As the story begins, we find that a street pusher is being hit up for a viewing session with his special package of VCR tapes and player. It is rumored that watching the tapes produces a hallucinogen transformation in the views that is sort of like a video high. 2 young paying customers fork up $50 to rent the package for a day. The playing of retro style grind house begins as each short introduces another small horror story.
"Death by VHS" (formerly called "Scream Machine" and then changed back again, most likely to cash in on the VHS title named films  suffers greatly from inadequate script writing. To begin, the film is super micro budget, the kind that anyone with a cam corder could pick up and create. I've seen my share of these and realize that even with low funding, a film can be watch able if properly written. My takeaway here is that "Death by VHs" is painful to sit thru. I'm not sure why this group never seems to learn their lesson with these releases….really all it takes is picking up some old EC comics for ideas on how to write short stories.
However, I don't believe a film can just be dismissed on its filming merit. "Death by VHS" is set up much like the other films from this film studio in that they begin with a wraparound and fill with short stories in between. The stories never go anywhere. For instance, a retarded kind wishes that Santa would kill his parents and then gets his wish. That's it, no real premise…..just a reason to kill off a few more victims. In another called "Lepus", a strange man wearing a rabbit suit goes on a killing rampage during Halloween. Ok, that's fine, as we can certainly say that the film "Halloween" really made the tension work in this area. In "Lepus" it is just plain dumb. A dressed man kills and then gets killed….end of story, no tension.
Now the wraparound itself really didn't have an basis for reason. The whole film is centered on these 2 teens watching VHS tapes that is slowly killing them. Much like an addiction for that matter. As they watch, they slowly slip away into final death. Again, none of these ideas raise the bar beyond just ending in death or getting killed. In fact my first thought was why would teens want to watch a bunch of tapes that they know would end in death? Extremely bad from front to back, I can't recommend this film to anyone besides using it as am example of what "never" to release to the public. My advice here is that the filmmakers need to get solid writers that show intent, purpose and even clever endings. There have been many short film anthologies that have come our way that champion this aspect despite low filming means.
Death by VHS (2013)