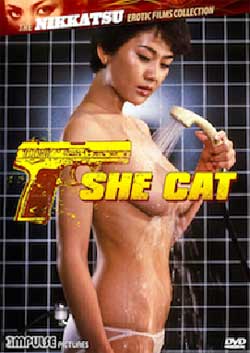 TWO NEW THRILLERS IN THE NIKKATSU EROTIC FILMS COLLECTION! SHE CAT and FEMALE TEACHER HUNTING
JAPANESE EROTIC DELIGHTS — WITH AN EDGE!
SHE CAT:
Dr. "Cat" Kagami was hoping to leave her torrid past behind, but a failed assassination attempt has now put her square in the crosshairs of a team of brutal killers. Now no one is safe, including her lesbian co-worker and a mysterious woman with a terrible secret that could bring down an entire Japanese company. Cat must take the law into her own hands and enact her own special kind of revenge!
She Cat, directed by Shingo Yamashiro, is not only one of the more intricately plotted features in the Nikkatsu Erotic Films Collection, but it's also one of the longest and sexiest entries. Expert direction, the amazingly "ample" assets of lead actress Ai Saotome, steamy lesbian shower-sex scenes and an action-packed gun fight finale make this film a must see for all Japanese erotic film fans!
In FEMALE TEACHER HUNTING, a moonlight skinny-dipping session between two carefree high schoolers leads to a young boy being accused of a violent assault on his female classmate. After throwing a teacher to the ground, he stomps out of the school gates and spends his summer break roaming a beachside town. Falling down a rabbit hole into a dark, oppressive world of sex and violence, he is taken in by a bar-owner and his libidinous mistress. Meanwhile, the teacher he assaulted hunkers down in a rented villa in the same coastal resort, awaiting a secret tryst with her married lover. What happens when student and teacher meet again?
A moody and dramatic from, with shocking scenes of sex and violence, FEMALE TEACHER HUNTING is deftly directed by one of the strongest of the final wave of Nikkatsu erotic film helmers, Junichi Suzuki.
SHE CAT (1983)
Disc Info:
Director: Shingo Yamashiro
Starring: Ai Saotome, Koichi Iwaki, Yoshie Otsuka
Run Time: 87 minutes
Release Date: May 7, 2013
Language: Japanese
Subtitles: English
Aspect Ratio: Widescreen 1.85:1
Format: DVD
Region: Region 1
Price: $19.95
UPC Code: 654930103999
FEMALE TEACHER HUNTING (1982)
Disc Info:
Director: Junichi Suzuki
Starring: Yuki Kazamatsuri, Yoko Azusa, Kyoko Ito
Run Time: 66 minutes
Release Date: May 7, 2013
Language: Japanese
Subtitles: English
Aspect Ratio: Widescreen 1.85:1
Format: DVD
Region: Region 1
Price: $19.95
UPC Code: 654930103890