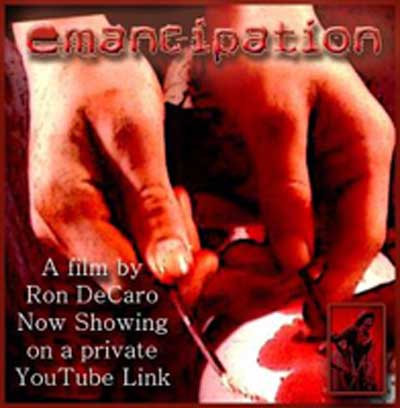 SYNOPSIS:
A young man wants to seek revenge on his sister because she has been stealing from him, but his mother's boyfriend tells him off, which is just the beginning of a downfall for our young man.
REVIEW:
From the mind of extremist Ron Decaro comes this over the top short film. Stoner Zach plots simple revenge against his sister per way of nailing a dead rodent to her door.
"Dude chop his balls man!", Well the rat may have "had it" as the rodent is subjected to scrotum electrocution with the purpose of making a point to Zach's sister as a payback measure, but there's more! It's juvenile hi jinx celebrated over the injection of hard drugs and revenge.
When Bobby, a local ghetto drug pusher threatens a round of whoop ass on him unless he removes the revenge decor, Zach takes matter into his owner hands with a surprise violently gore-exploitative attack. Close-ups of Bobby's mangled face take things more extreme than normal leaving us hanging for more.
This 11 minute short may be too short for its intention, but it does stand as a introduction to Ron Decaro's future creations. The piece has been announced to be included in the "Brightside Trilogy" DVD release, however fans will want to catch a glimpse before hand in this free online posting.
Short and sweet, it's drug-based nastiness with the intention of making a few squirm. Nothing special, but "special" takes a back seat to a nasty face blow and some pretend animal cruelty.
Emancipation (short film) (2011)