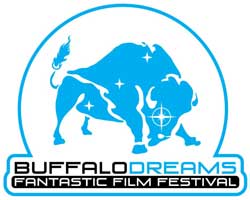 The 2013 call for entries for Buffalo Dreams Fantastic Film Festival is now open. This international festival, founded by Gregory Lamberson and Chris Scioli, seeks short, medium length and feature length science fiction, fantasy, horror, action, thriller, animation, cult and fan films. Submissions can be made through Without a Box.
Buffalo Dreams Fantastic Film Festival's mission is to bring the best independent genre films from around the world to Buffalo, and to spotlight quality work by regional filmmakers. First, Second and Third place awards will be given in six categories, half of them international. In addition, an award will be given for the Best Western New York Genre Film.
"Our goal is to make Buffalo Dreams the leading genre film festival in New York State," Lamberson says. "Buffalo has a rich cultural history and amazing architecture. We have a burgeoning film community, and this is the perfect location for a genre film festival: last year alone SyFy's Battledogs, Lloyd Kaufman's Return to Nuke Em High, and Debbie Rochon's Model Hunger filmed here. We're going to tap into that independent filmmaking spirit."
Lamberson and Scioli previously collaborated on Buffalo Screams Horror Film Festival for three years, and grew it into a respected international festival. The duo saw an opportunity to expand the event's scope while re-branding.
Buffalo Dreams Fantastic Film Festival runs Friday, November 8th – Thursday, November 14th, 2013, at the Dipson Amherst Theatre, 3500 Main Street, in Buffalo, New York. The theatre, which programs specialized films, is located in the University Plaza, across the street from the University at Buffalo South Campus.
Filmmakers and sponsors are encouraged to visit www.buffalodreamsfilmfest.com for additional information.