Emii has been taking the world by storm with her infectious music and her rocking style.  This talented songstress has just wrapped on her upcoming video for her newest single, "Freakier Freak." You can check out the "Freakier Freak" Behind the Scenes footage on YouTube here:
[youtube]https://www.youtube.com/watch?v=s3GTaEzIXoo[/youtube]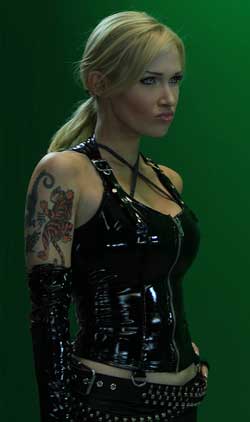 The full video is coming soon so stay tuned!
In addition to her upcoming video, Emii has taken the plunge into film and will be starring in the upcoming sci-fi/thriller film STARSHIP: RISING. The film is about what happens when a Starship armed to the teeth with missiles gets taken over by a revolutionary. Emii's character, "Jolli", is an opinionated woman who loves adventure and programs robots for a living. She is forced to leave her home and her planet to embark on an unforgettable journey into space and beyond.
With her eyes on the prize, Emii is focused on breaking boundaries, inspiring others and sharing her musical prowess with the world. Her controversial video for "Stilettos" can be found on MTV Logo's on demand channel amongst club favorites Lady Gaga and Beyonce. The billboard-charted hit can also be heard on Sirius/XM radio's 20 on 20 channel.
Emii first became popular with her smash hit, "Mr. Romeo," when he was then given the rare opportunity to collaborate with hip-hop legend, Snoop Dogg. Since the music video premiere of Mr. Romeo, it has garnered over 1.9 million views, has since been the #7 Most Viewed video in music on YouTube as well as #3 Most Viewed video in New Zealand and Mexico, #4 in Italy and Argentina, #7 in France, and #12 in England, Spain and South Africa. You can check it out here: bit.ly/npe7yl
Look for updates on www.emii.net.