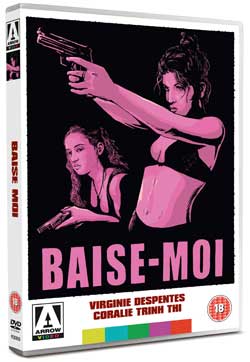 Arrow Video are pleased to announce that the uncut version of "BAISE-MOI" will be released on UK DVD for the very first time on Monday March 25th. One of the most controversial French films ever made, this highly anticipated release also marks the first time that "BAISE-MOI" will be available in widescreen format.
Sex and shooting assault the senses in this early-noughties cult classic – the name of which translates quite literally to 'F*** Me' or 'Kiss Me' – a bloody buddy movie that's like Thelma and Louise on acid. Co-directed by Virginie Despentes and Coralie Trinh Thi, BAISE-MOI was banned upon initial release in its native France in 2000. Steeped in gratuitous violence, the film has provoked as much horror as it has acclaim, debate and column inches.
Read the full press release online HERE.
Exploring themes of gender, race, rape, class, poverty and punk rock, BAISE-MOI follows Manu (a part-time P*rn star) and Nadine (a hooker), as they travel from southern France to Paris in a sexually charged and hideously violent road trip. After a chance meeting the pair bond over a mutual hatred of social expectation and a feeling of common angst – follow them on their now infamous path of robbery, orgiastic lust and murder.
Special features on this definitive DVD edition of BAISE-MOI include a 40-minute "Making Of" Documentary with the directors and cast; a Collectors Booklet featuring writing on the film by critic Kier-la Janisse and Virginie Despentes; Q&A with both directors; the Original Theatrical Trailer; and an Exclusive Reversible Sleeve (featuring newly commissioned artwork by Joe Wilson).