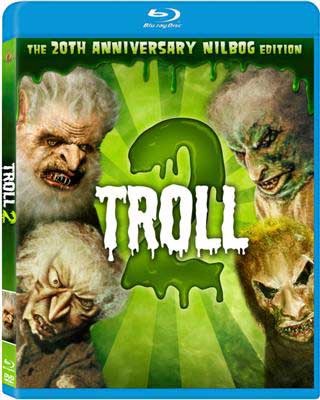 IN CELEBRATION OF VEGETARIAN AWARENESS MONTH,
PREPARE TO BE DEVOURED BY THE CAMPY HORROR FLICK TROLL 2
MGM Home Entertainment celebrates 20 years of the "Best Worst Movie" with this highly anticipated Blu-ray debut, arriving October 5th
LOS ANGELES, CA (August 23, 2010) – "Oooooooh my gaaaaaaaawd…" Troll 2 is arriving on Blu-ray for the first time on October 5th from MGM Home Entertainment. Grab the popcorn, lock the doors, and prepare to be gobbled up by the film that inspired the hit documentary Best Worst Movie.
Joshua Waits has been warned by his grandfather's ghost that his family is about to embark on a dangerous vacation to the town of Nilbog. Although he tries to stop them, Joshua fails to make his parents see that there is something suspicious about the town. The residents are extremely friendly but are constantly trying to feed the Waits with strange, green delicacies. Joshua soon realizes that the town of Nilbog is actually "goblin" spelled backwards, and that his family has been lured into a trap. With the help of Grandpa Seth, Joshua must save his family from being turned into vegetables and devoured by the vegetarian goblins!
Troll 2 Blu-ray Combo, including both a Blu-ray and DVD disc in BD Amaray. Also available is Troll 2 on a single disc DVD in DVD Amaray will be available for the suggested retail prices of $19.99 US/$21.99 Canada and $14.98 US/$15.98 Canada, respectively. Prebook is September 8.
Metro-Goldwyn-Mayer Inc.
Metro-Goldwyn-Mayer Inc., through its operating subsidiaries, is actively engaged in the worldwide production and distribution of motion pictures, television programming, home video, interactive media, music and licensed merchandise. The company owns the world's largest library of modern films, comprising around 4,100 titles. Operating units include Metro-Goldwyn-Mayer Studios Inc., Metro-Goldwyn-Mayer Pictures Inc., United Artists Films Inc., Ventanazul, MGM Television Entertainment Inc., MGM Networks Inc., MGM Domestic Networks LLC, MGM Distribution Co., MGM International Television Distribution Inc., Metro-Goldwyn-Mayer Home Entertainment LLC, MGM ON STAGE, MGM Music, MGM Worldwide Digital Media, MGM Consumer Products and MGM Interactive. In addition, MGM has ownership interests in international TV channels reaching nearly 120 countries. MGM ownership is as follows: Providence Equity Partners (29%), TPG (21%), Sony Corporation of America (20%), Comcast (20%), DLJ Merchant Banking Partners (7%) and Quadrangle Group (3%). For more information, visit www.mgm.com.
# # #
Press materials available at www.foxpressroom.com
Follow Twentieth Century Fox Home Entertainment on Twitter @FoxHomeEnt
Media inquiries: Jennifer Lang, 310.369.3980; jennifer.lang@fox.com /
Jenn Quader, 949.223.2308; jenn.quader@hillandknowlton.com
Online requests: fox@thinkjam.com
Canada: Bernice Couto, 416.486.7219; Bernice.couto@gcicanada.com
Troll 2 Blu-ray Combo Pack: (Catalog # M122635)
Street Date: October 5, 2010
Prebook Date: September 8, 2010
Screen Format: Widescreen
Audio: English 5.1 DTS-HD Master Audio
Subtitles English, French and Spanish
U.S. Rating: PG 13
Total Run Time: 97 minutes
Closed Captioned: Yes
Troll 2 DVD: (Catalog # M122635)
Street Date: October 5, 2010
Prebook Date: September 8, 2010
Screen Format: Widescreen
Audio: English Mono
Subtitles English, French and Spanish
U.S. Rating: PG 13
Total Run Time: 97 minutes
Closed Captioned: Yes