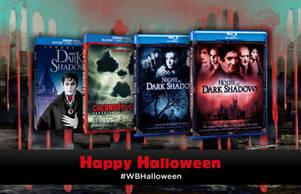 All right horror fans, got a special Halloween treat just for you.
Those amazing folks over at WARNER BROTHERS have made it possible for me to offer you this fantastic Halloween give away and it's time to reap the rewards.
How much would you love to get your hands on all that?
You will get a Blu-ray copy of
Dark Shadows
Chernobyl Diaries
House of Dark Shadows
Night of Dark Shadows
Hot damn, that's a lot of horror goodness!
As always I like these things easy and simple so just shoot me an entry RIGHT HERE and you'll get a shot at winning. Only one winner will be chosen so make sure you send me all the info I need. Complete mailing address is a must!!
The prizing will be shipped directly from Warner Bros. so any entries not including a complete address will be disregarded. You would be surprised how many people just send me their names. Come on people!
HAPPY HALLOWEEN to you all, now enter and win!!