The Walking Dead Escape
WELLS FARGO CENTER COMPLEX
PHILADELPHIA, PA
SATURDAY, OCTOBER 27, 2012
6PM-12AM
GET REGISTERED NOW!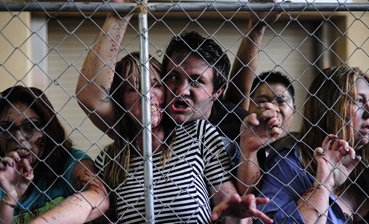 The zombie virus continues to spread as Ruckus Sports and Skybound, in conjunction with Live Nation, announce Philadelphia as the next city to fall in the gruesomely realistic The Walking Dead Escape obstacle course series.
There are three ways to take part in this epic adventure: participants can choose to be a Survivor and race through the zombie infested evacuation zone, a Walker who embraces the inevitable and surrenders to the undead horde, or a Spectator who watches the apocalypse from sidelines at the Escape Party.
Survivors will climb, crawl and slide in an effort to avoid confrontation by hordes of Walkers while achieving the ultimate adventure on The Walking Dead-themed obstacle course. Survivors will reach the decontamination zone where their level of infection – if any – will be determined by a confidential military scan. Walkers will be transformed into the undead by professional makeup teams and released on the course to haunt the living. New for the Philadelphia Escape is the "Survivor Showdown" where five-person teams will compete on a separate, walker infested course for $2,500 in prizes.
"It's like a haunted house at 100 miles an hour" – LA Times
"From the moment the course begins it's all out havoc" – The Realm
"…entirely unprecedented."
-MTV
"…a must-do experience." – Inside The Magic
Registration is now available through www.TheWalkingDeadEscape.com