The 'Tenth Doctor' will appear on both Saturday & Sunday, 'Rose Tyler' will appear on Sunday Only At Pennsylvania Convention Center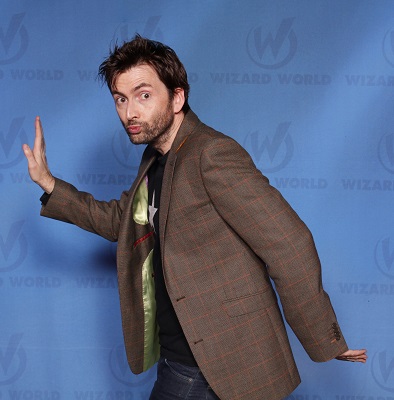 PHILADELPHIA, March 16, 2015 – David Tennant, who starred as the "Tenth Doctor" on the long-running series "Doctor Who," and Billie Piper, who was his love "Rose Tyler," will make their first dual U.S. public signing and photo op appearance at Wizard World Comic Con Philadelphia at the Pennsylvania Convention Center, as announced today by Wizard World, Inc. (OTCBB: WIZD).
Tennant will appear Saturday and Sunday, May 9-10; Piper will attend Sunday, May 10, only. They will greet fans, sign autographs, pose for dual and solo photo ops and conduct a Dual interactive Q&A panel. The show will also mark the second Wizard World appearance for Tennant, who was a huge hit last weekend in Raleigh, N.C., and the first for Piper.
Fans who purchase VIP admissions, available at http://wizd.me/PhiladelphiaPRAdmissions, will be guaranteed autographs, photo ops and seating at the panel. It is unlikely general admission sales will be available.
Since his early work on local Scottish television through roles in some of the most beloved fantasy and sci-fi franchises of all time, Tennant has been entertaining audiences with his unique brand of wit, warmth and humanity.
In 2005, Tennant lived out a childhood dream by being cast as the indomitable Doctor Who. Tennant's run as the Tenth Doctor won massive praise from fans and critics alike, with the readers of Doctor Who magazine voting him "Best Doctor." Tennant's run as the Doctor lasted five years and made an indelible impact on the series and its appeal not only among longtime fans but converts as well. His final appearance as the Tenth Doctor was for the 50th anniversary special "The Day of the Doctor," a landmark event in the series' history that brought together the series' past, present and future.
Piper's career started at just 15 when she became the youngest artist to ever debut at number one; since then she has gone on to become one of Britain's most beloved and acclaimed actresses winning over audiences, critics and award panels alike, covering almost every area of performance. In 2003, she was selected to play Alison in the BBC's adaptation of The Miller's Tale. The show was a success and less than a year later she had landed parts in several films and BBC 2's Bella and the Boys, a drama focusing on three residents of a children's care home.
However, success really peaked for Billie when she was chosen to play the part of Rose Tyler. She went on to receive several awards including, "Most Popular Actress," "Best Actress" and "Breakthrough British Talent" at numerous different ceremonies.
The pair join a strong lineup of stars at Wizard World Comic Con Philadelphia which already includes Ben McKenzie ("Gotham"), Nathan Fillion ("Firefly," "Castle"), Stephen Amell ("Arrow'), Hayley Atwell ("Agent Carter"), Karl Urban (Star Trek, The Lord of the Rings), Danny Trejo (Machete, Machete Kills), Penn Badgley ("Gossip Girl," Easy A), Michael Cudlitz ("The Walking Dead," "Southland"), Lacey Chabert (Mean Girls) and more.
Wizard World Comic Con events bring together thousands of fans of all ages to celebrate the best in pop-fi, pop culture, movies, graphic novels, cosplay, comics, television, sci-fi, toys, video gaming, gaming, original art, collectibles, contests and more. Wizard World Comic Con Philadelphia show hours are Thursday, May 7, 3-8 p.m.; Friday, May 8, 12-7 p.m.; Saturday, May 9, 10 a.m.-7 p.m.; and Sunday, May 10, 11 a.m.-5 p.m.
Wizard World Comic Con Philadelphia is also the place for cosplay, with fans young and old showing off their best costumes throughout the event. Fans dressed as every imaginable character – and some never before dreamed – will roam the convention floor.
For more on the 2015 Wizard World Comic Con Philadelphia, visit http://wizd.me/PhiladelphiaPR.
About Wizard World
Wizard World (OTCBB: WIZD) produces Comic Cons and pop culture conventions across North America that celebrate the best in pop-fi, pop culture, movies, television, cosplay, comics, graphic novels, toys, video gaming, sci-fi, gaming, original art, collectibles, contests and more. A first-class lineup of topical programming takes place at each event, with celebrity Q&A's, the Wizard World Film Festival, comics-themed sessions, costume contests, movie screenings, evening parties and more. Wizard World also produces socialcon featuring social media stars and has launched ConTV, a digital media channel in partnership with leading independent content distributor Cinedigm™ (NASDAQ: CIDM).
Wizard World 2015 schedule available at: http://wizd.me/PRSchedule2015.