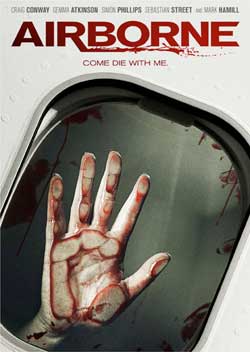 Leading the flight is Star Wars' Mark Hamill, Craig Conway, Billy Murray and Julian Glover. Flying to VOD September 14th; On DVD and Digital Download October 16th.
Turbulence is the least of their worries. On October 16th, Image Entertainment presents Airborne, a "Twilight Zone"-infused horror/thriller starring Luke Skywalker himself, Mark Hamill (Star Wars Trilogy,). Airborne features a strong genre cast including Alan Ford (Snatch), Gemma Atkinson ("Hollyoaks"), and Julian Glover (HBO's "Game of Thrones", Troy), who reunites with his fellow Star Wars legend after 30 years! Airborne comes to DVD and Digital Download for an SRP of $27.97. Pre-book is September 18th.
When a storm starts closing in, air traffic controller Malcolm (Hamill) sends one last plane into the sky – but after takeoff, the passengers aboard discover the pilots have been brutally murdered. Suddenly the plane disappears from radar, and one by one, the people aboard turn into dangerous, bloody psychopaths. With time running out, the survivors must unlock the deadly mystery in their midst – and find a way to land the plane before their ultimate nightmare is unleashed!
Language: English
Format: Anamorphic Widescreen (2.35:1)
Audio: Dolby Digital 5.1
Year: 2012
MSRP: $27.97
Street Date: October 16, 2012
Pre-Book: September 18, 2012
Length: 78 mins
Subtitle: English
UPC: 014381819625
Cat#: POF8196DVD