SYNOPSIS:

A young Russian woman, smuggled into America by human traffickers, and a notorious Egyptian transporter, hired to drive her from the Mexican border to New York City, form an unlikely bond that transforms them and threatens to derail the traffickers' plans.
REVIEW:

Human trafficking has reached epic proportions in the U.S. Living in a small town you just kind of go along with what you hear on television. There have been many films over the last few years that address the issue in different ways. There was the realism of "Human Trafficking" with Mira Sorvino and the action/revenge of "Taken" with Liam Neeson. I'm sure we all wish we had a certain set of skills like Neeson and wipe out the problem ourselves. That isn't reality and the problem is very real. Not only are immigrants forced into the trade, but women and children from our own country as well. "Cargo" is a little film that not really addresses the issue, it does take a stark, realistic look at a young Russian woman who is taken and being transported. Not my usual type of film but once I started watching it I was immediately invested in her horror and the world that she is unwittingly thrown in to.
Natasha (Natasha Rinis) is a young Russian woman who pays some unsavory folks to bring her in to the U.S, under the assumption that she would be taken care of in a legitimate manner. Things quickly turn around when her driver Joe (Seth Ruffer) comes up with an excuse to take her passport. She soon finds herself locked in a basement with other girls who were all promised the same thing. The show is run by Lukasz (Philip Willingham), he has orders to fill and deadlines to meet. Girls are being shipped off all over and Sayed (Sayed Badreya) is in charge of transporting Natasha to New York. She is thrown in the back of his van and they set off. Natasha is determined to escape and Sayed has a job to do. When their personalities collide, what will happen on that trip.

The main core of the film is the relationship between Sayed and Natasha. She is frightened and just wants to be let go. Sayed is a Muslim from Egypt. They couldn't be more different personalities. Even though Natasha is a victim, she still has a strong and determined personality. Rinis does an amazing job bringing her to life with incredible realism. She is humiliated, treated like an animal, but her spirit is so strong and this all shines through in her character. She made the film for me. Sayed is also a strong personality, making his almost despicable character sympathetic.
From some of the reports that I have read on human trafficking, the events portrayed in the film were pretty realistic. The little details of the operation are shown and hinted at, a solid script by Yan Vizinberg and Lee Peterkin. Vizinberg also directed the film with an expert flare for suspense. There are a few really nice twists at the end of the film. You constantly root for Natasha, hoping she can escape from her captors. It wastes no time at all setting up the conflict which is very interesting, very real, and very horrifying that people (mostly women and children) are still being treated as slaves in modern society.
"Cargo" doesn't focus too much on the actual business of human trafficking. It's more of a character drama about two clashing individuals with clashing ideals trying to make the other understand. The performance from Natasha Rinis was, in my opinion, a star making turn and I hope to see her get some recognition. I believe the film was rated 'R', mostly for violence and language though there was some very brief nudity early on. If you're the type who enjoys a darker, more graphic type of Lifetime Movie, "Cargo" is it. Normally when I refer to Lifetime I mean it as an insult but in this case, it is more of a reference to the women in peril type of films that they mostly show. This could be one of them, just VERY well made and suspenseful. **** (out of 5)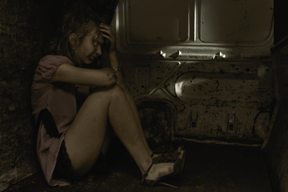 Cargo (2011)