Laura Seli is a very busy woman who is involved in almost every aspect of her productions. Her production company has produced two horror movies, "Sabbath" and "Dread". Her productions are low budget but full of spirit (no pun intended). She took some time out to answer some of my questions.
Tell me what got you interested in horror movies?
I've loved horror and the supernatural since I was a wee tot, no joke! I'm a major film fan;
old film, foreign, but I'm drawn to the darker side. When the opportunity came up, I jumped at the chance to put on a show with my friends!
I have heard it said that In Lieu of Flowers Productions was made out of necessary?
I'm a wallflower. It's my lot in life. But, when no one stepped up to the plate, I had to. Most people don't realize exactly what an 'Executive Producer' does, especially on a micro-budget film. I'll tell you briefly: everything! So, I pretty much had to start my production company, which is a moniker I hide behind. If you've read the obituary page in your local paper you'll recognize the phrase; "In Lieu Of Flowers"!
What is it in your current productions that called to you and said "make me"?
I've long been fascinated by the duality and struggle of good and evil present within your soul. Being raised with the implications of losing favor with God and the consequences are a terrifying thing. So, it's no wonder all of those classic Hammer films, Universal films, and foreign films still resonate with me and most horror fans today. I've tried to still carry those themes, with a subtle Midwest twist in my own films. And it's something that will still be found in my future films, too.
I have heard that among your many duties that you did makeup effects on "Dread". Do you have a background with makeup or was it we have to get this done?
I did apply some of the make-up for "Dread" and a little for "Sabbath," too. I came up with the concepts of all of the characters, so it just made sense for me to literally apply what I had created. The actual face painting I let the professional Darrin Willgues, do for "Dread." But, it was hard for him to do his own face, so I helped out. I helped paint Karen Fox ('Dread X') while Darrin was busy with painting himself, to save time. It always helps to have back up! I was a graphic artist, so I'm sure that didn't hurt, either!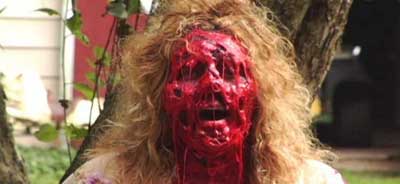 Any stories from behind the scenes that you want to share?
As far as that goes, weird things did happen on the shooting on "Sabbath." A lot of creepy and unexplained phenomenon, for sure! But, both films had a lot of synchronicity at play. All happy coincidences, usually in the eleventh hour, when I was in dire need, someone; a stranger, a friend of a friend, would have or be what I needed to complete filming. Also, a lot, more than chance, of people knowing each other for years – which I had no clue of!
You were the writer on both "Sabbath" and "Dread". How was it to see your screenplay become a film? And were there things you had written that you couldn't do due to budget, or time?
I have a bad habit of laughing when I see a scene I've done filmed. It's like playing Barbie dolls with people! Since I film what I write, I keep the budget, talent and location in mind. You have to or the film loses it's impact. Time is always of the essence, but I've learned to judge what you can film without needing a crew or principles present. So, as I go along I try to keep that in mind. The filming process goes so much smoother that way.
Do you have in mind the next project and if so can you tell us a little bit about it?
I am in pre-production for my next film now. I'm taking my time in doing it right and am planning out every aspect. I'm hoping for a better final product, so this is a test for me! I'm keeping the details under-wraps for now, but expect to see more of the common themes and Midwest values that are in my previous films.
How can our readers get copies of your movies? And get updates on your projects current and future?
"Sabbath" is out now on DVD, which you can rent from Netflix.com or through BrainDamageFilms.com. With "Dread" (aka"Dread Reckoning") I'm looking for a new distributor now, but you can get updates on the films by checking out:
Thank you Laura for taking some time to talk to me. She is a very nice woman and truly has the independent spirit that makes indie films such a joy. Check out her websites, buy a DVD, drop her a line.
Interview: Lauri Seli (Dread, Sabbath)