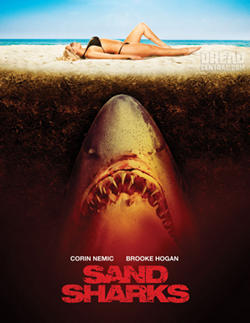 Ah yes, SAND SHARKS.
Seems like it's been a while since we talked about this one. If you remember it's the one that stars Brooke Hogan.
Rest assured, she will be spending ample time running around the beach scantily clad and covered with blood!
Yeah, that got your attention didn't it.
April 1st brings the VOD debut from Phase 4 films. As far as storyline goes (as if that even matters):
Jimmy Green, a prodigal party boy, is throwing the spring break festival of a lifetime on the island of White Sands. Little do the hundreds of teenage party-goers know, an underwater earthquake has cracked open a crater beneath the ocean's surface.
This demolition unleashes the most menacing beasts to ever rule the waters, and the only predator to ever swim through sand. It mercilessly feeds on anything that crosses its path, and it is up to those left on the island to stop the carnage.
Check your local cable company to see if it's playing in your neck of the woods. It looks like just about everyone but Time Warner Cable has picked it up.