Alright the doctor of gore is here to bring you an exclusive interview with graphic designer/photograher Jason Beam of Jason Beam Studios to talk about his beatifully rendered and amazing artwork and the horror and comic book genre as a whole! Words cannot put how kick ass his prints are so just visit his website www.jasonbeamstudios.com asap after youve read this fun interview!
Dr. Gorehound: When did you first discover your own talent in art and portrait making.
Jason Beam: Like most artists, I was expressing myself artistically at an early age, and was fortunate enough to have my parents encouraging me to do so all through childhood. Although, they weren't too pleased with the fact I eventually wanted to go to college for it, but they're good with it now. Haha.
Dr. Gorehound: Where you always making unique and otherworldy type pictures with models before you got successful in it?
Jason Beam: the current style I am working in, I've been in for about 13 years now – and the style basically started out as my interpretation of the Pre-Raphealite's influence on my work. The romance of that body of work intrigued me, and I wanted to explore how to do a modern take on it – and for that, I would need models. And back when I started, finding models to do nude for you in Great Falls, Montana was an uphill challenge when you are an relative unknown artist – but a handful of them had faith in what I was doing, so I was fortunate enough to have a great selection of models for my work. It took me a while to get the artistic look where I wanted it, but I was fortunate enough to be starting this endeavor in 1995 when there wasn't much for digital art, and I was able to make a mark with my style of work.
Dr. Gorehound: Did you first start out sketching your own artwork before going all digital, or do you do a mixture of both when creating a piece?
Jason Beam: At first, I would try to keep it very loose, have a few ideas in my mind and just go from there. I'd work with a model, take a couple hundred photographs and just see where the shoot would take me. I enjoyed the spontaneousness of working that way, but as I started to get busier, I needed to plan my pieces of art more, so I create a variety of pose sketches and I keep the ideas of the artwork loose. I draw out what I think will compositionally work for what I am going to illustrate, but I don't spend a lot of time on specific details – I like the artwork to develop a life of it's own when it's coming together.
Dr. Gorehound: Did you go to a graphic design school to get more training or are you always self taught?
Jason Beam: I started out at Rocky Mountain College of Art and Design in their illustration program, but realized that I wanted to have a career in an art field, and I wasn't going to get that being an illustrator, so I moved to Platt College into their Graphic Design/Prepress program. After school I moved back to the place I grew up, and spent 15+ years working in my field before I left to go out on my own in New York. 
Dr. Gorehound: Do you have any inspirations from other famous artist's like Clive Barker or H.R. Giger? Your work reminds me of theirs in different ways.
Jason Beam: A lot of my inspiration comes from the Pre-Raphealite artists, mostly because of their story-telling aspect of the style. Gerome´, Dicksee and of course Waterhouse are big influences. I also gravitate towards Gustave Doré, mostly because he was incredible prolific and has illustrated more classic tales of literature than I can count. My friend and art agent Les Barany, who is H.R. Giger's Representative has given me a different perspective on Giger, and I have a new-found respect for Giger's work, hearing about his views through his friend Les.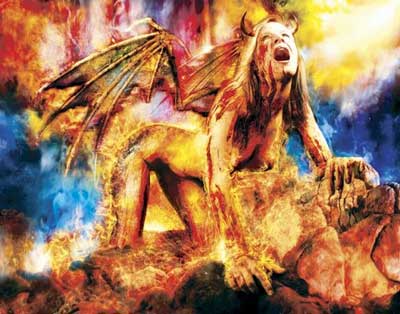 Dr. Gorehound: How do you get such beautiful models to work with you like Christy Hemme and Brandi Michelle Bourgon on different artistic pieces? Do they have to have a unique look or facial expressions to match your take on your art?
Jason Beam: Professional models like Christy and Brandi are incredibly fun to work with, because they have such wonderful emoting abilities, and it's very easy to tell them what I am thinking, and they go with it and add their own personality to the shoot. And with both of them, they saw my work and wanted to be part of it, and so it's great to have everyone excited about working together. Those two gals, in particular, are very creative people and so when we collaborate, they can see where I am going with the art, and we all function pretty cohesively when it comes to the creative process. Expression and body language is a big part of my art, and they always seem to give me exactly what I am looking for.
Dr. Gorehound: Youve work with Christy Hemme on several unique artistic portraits like Red Riding Hood and The Eternal Empress which i both love, So hows it like working with a Model/Wrestler like Her?
Jason Beam: Christy is an amazing individual, she is a strong person and very creative, and through the years we've become good friends on top of it. She's always positive about things and eager to try out new ideas – we work well together. I just finished up her CD cover for her debut album, and since doing Red Riding Hood in 2007, we usually have some sort of project going together. She embodies the gratifying part of my work – it's not so much about creating the art, but working with people that truly fit my style of work and vision is what makes it rewarding.
Dr. Gorehound: Do most of your models give some input to making the piece better?
Jason Beam: I have a select group of individuals that I share the work with during the creative process to get input – part of my end goal is that the piece communicates my idea. While some artists enjoy the expression they put into their work, what I enjoy is that my idea is put across correctly. And for that, I like to get input from people to make sure my idea is being expressed in a way that those who are seeing it for the first time know what I'm trying to get at. As far as the models go, I usually hear from them and like to know if they like how they look in the art. I want them to be happy with it as well, it's something that they are going to have to look at, and have other's look at – so I want to make sure I represent them in the art in a positive way, so input is always good.
Dr. Gorehound: When did you start getting into photography?
Jason Beam: When I started out doing my work (back in the film days of the mid-90s) one of my best friends, Chad Hovland, too the photos for me, and I art directed the shoot – eventually I started delving into it myself, and we would do a shoot together, until I started doing all the shots myself. It was a great way to learn the photographic aspects of things, and coupled with my prepress background – it was a natural fit to see my idea though from start to finish. The way I create my work is pretty tried-and-true, so it's easier for me to conduct everything on my own, because as I am taking the pictures, I can see issues that I know will come up on the computer side and compensate for that right there with the model.
Dr. Gorehound: Who are some of your favorite photographers to work with on different colorful pieces?
Jason Beam: Natasha Epperson was the first photographer I collaborated with that didn't live in the same area as where I lived. And man, she is an amazing gal – she found models who still, to this day, are some of my favorites. She photographed Anita Star, who is in several of my pieces, as well as Portia Surreal, who now lives in New York and we are able to shoot together – which is fun since we have a 9-year history of working on things, but never in person. Kevin Roberts in Florida has also taken photographs of Christy Hemme (for the Red Riding Hood piece) as well as Joey (who is in 'Andromeda') and he is a master at capturing sensuality. We have another project that we are working on with a new gal that I am excited to work on.
Dr. Gorehound: What is the process you went threw to create the Angels & Demons pieces? Did you study the mythology behind it?
Jason Beam: I do a lot of research work, and stick lots of little details in my work that are based on that research. The Angels and Demons set is a collection of popular pieces I have done with that theme. 'Christine' was a piece I did for the SpookyArt Charity Project that was based on Stephen King's book 'Christine', along with 'Fallen' which I did for the same charity the year prior. 'Coming of Cthulhu' was an illustration for Cthulhu Sex Magazine and 'The Heirophant' was based on the tarot card of the same name. Depending on the story I am illustrating, that will dictate how many little details I put into the piece from the research I have studied.
Dr. Gorehound: What are some of the horror movie dvd covers you designed like Barricaid and Tim Roses FEARMAKERS?
Jason Beam: I am just starting on a project for the film 'Braincell' which is going to have a little different look than some of my past covers, which will be great. I worked again with Timo Rose on his upcoming film 'Beast' that has a great look. I have also worked in the past with Andreas Schnaas and developed the cover for 'Don't Wake The Dead' which came out last year. Always working at promoting my work on DVD covers, and I am just getting ready to attend conventions over the next few months to talk with producers about future projects.
Dr. Gorehound: Do you have any horror movies you grew up with that gave you inspiration for some of your pieces?
Jason Beam: 'The Prince of Darkness' was influential in that sense, because I have always thought that movie was just plain creepy. And it seems that there are so few fans of that movie that I have met, but I guess it comes down to the time in your life when you see it for yourself, and it makes an impression. I saw that movie in the theater when I was a kid, and it took me a few days to even look into a mirror. I may not feel that fear when I watch it now, but I can remember what it felt like when I was younger, and that's always the fun part. Whenever I start down the zombie road, I always come back to 'Return of the Living Dead' which is a teenage favorite of mine, and that served as some of the visual influence of my Cryptessa character. Sure, there are more effective, influential zombie movies out there, but that one has a special place in my heart.
Dr. Gorehound: Ascension and Fallen are both similar in Demons and Angels trying to escape and enter eachothers worlds, but getting a painful outcome from it. You said these pieces are your absolute favorites amoung the other awesome ones. So why did you decide to create these unique pieces and what fascinates you the most about them and their mythological means behind them?
Jason Beam: I think it's the struggle or the realizations that they both faced in the artwork. Part of the human condition that I enjoy experimenting with is the fact there are rarely any absolutes. Just because you are a demon doesn't necessarily mean that you can't desire retribution, and just because you are a fallen angel doesn't mean that you don't regret your transgressions. That was the basis for these pieces, and I wanted to express that grey area with the subjects – to me, it's easy to portray an evil demon or a beautiful angel – I wanted to delve a little deeper and bring some emotion into it, and that is why those two are among my favorites, I was always happy with what they ended up looking like.
Dr. Gorehound: Do you get any new ideas from or inpirations from comic books like Vampirella, Heavy Metal, Red Sonja, Joseph Michael Linsner's DAWN, and BarbWire since you have alot of pieces with beautiful imtimidating warrior women?
Jason Beam: I owned a comic book shop in the mid-90's, so I have a lot of influence from almost all those you mentioned in one fashion or the other. I always liked how Linsner portrayed Dawn, along with the way Boris Vallejo and Julie Bell illustrated women in such a powerful fashion. Olivia was a big influence as her women were always so sensual. Running the shop at a time when the trading cards were so big, I had lots of reference material always around, and all the talented artists from back then certainly influenced the way I created women in my art, even if it wasn't one person specifically.
Dr. Gorehound: You spent over 50 hours creating the magnificent gorgeous piece known as HELLRIDER. So how was that process to create a piece that could pass as a comic book cover or movie poster?
Jason Beam: I actually wanted to create something that had a real Frazetta look to it – barbarian woman and all. The process was quite tedious for me, as it was a challenge to give it that Frazetta feel, but still maintain the level of detail that I enjoy putting into the work. Hellrider was a promotional print to go with my newly released book 'Daughters of Digital Alchemy' and I had spent so much time developing the book, it was refreshing to kick back and do some artwork, so I didn't mind taking my time and experimenting a little bit with how I wanted it to look.
Dr. Gorehound: Do you also do custom made digitized portraits of peoples faces if they request it for a fee?
Jason Beam: I've experimented with doing portraiture, but a large part of my work is developing the environment that the subject is surrounded by. The nature of portraits require less background and more focus on the subject – and while that is perfectly fine, I haven't had a chance to really spend time developing a style for portraits, although it is something that I am delving into from time to time.
Dr. Gorehound: Hows it like working with the beautiful Raine Brown? Have you seen her in the slasher movie 100 TEARS? Shes an up and coming Scream Queen.
Jason Beam: I loooooove working with Raine. She shows up here with a suitcase full of outfits, and we always have fun. She's always open to doing different things, and she's wonderful at emoting and really adapting to any kind of look we come up with. As you can see from one of the pictures I supplied, we had some left over cake at the shoot, a Colt 45 in the fridge and I asked her if she wanted to play around with looking like white trash. She went into the bathroom, caked on the make up, came out and looked the part. It was awesome.
Dr. Gorehound: Top 2 favorite horror films of all time?
Jason Beam: Hmmm. Hard to pick just two, and I have to say that you can't hold me to these, because they might change. Prince of Darkness, as I mentioned before, will easily be my number one choice, but number two right now might have to be Stacy Davidson's 'Domain of the Damned'. I know it's a cop-out to pick a newer film like that, but when people ask me what horror movies I love, that one always comes up and I always recommend it. It's essentially everything but the kitchen sink: Vampires, Circus Freaks, Serial Killers, Psychotic Rednecks. And you would think that it might be overkill, but Davidson manages to make it completely balls-out fun and you don't ever think there is too much convolution there. 
Dr. Gorehound: Favorite horror movie director?
John Carpenter, my personal fav. He's got a laundry list of amazing horror films that just can't be ignored.
Dr. Gorehound: Vincent Price or Lon Chaney?
Vincent Price for the voice. I grew up loving the intro to Alice Cooper's 'Black Widow' and sadly, he passed on doing Maiden's 'Number of the Beast' – but the guy they got to do the audio was Vincent Price-like, so the legend of his oratory skills goes on. I haven't seen enough Vincent Price movies, but for me, he nudges out Lon Cheney.
Dr. Gorehound: Zombies or Vampires?
Jason Beam: Vampires. I will take blood over gore, and while Vampires are just as sloppy as Zombies when they are chomping on people, I think they have a little more seductive style to 'em.
Dr. Gorehound: Favorite Scream Queen?
Jason Beam: There's no way I can peg that down. I love Coralina Cataldi-Tassoni, Eileen Daly and Raine Brown because they are friends and I always admire their work. I hope to work with Debbie Rochon someday soon, and Linnea Quigley has the sexiest scream queen voice of all time. 
Dr. Gorehound: What do you think of the current state of horror with all the remakes and sequals infesting theaters and direct to dvd?
Jason Beam: Well, everyone has their own slant on that – my personal opinion is that I would much rather see original screenplays make their way to the top than trying to repackage and reboot an 80's film. From a marketing aspect, I understand why these remakes and sequels are being produced, but I think in the long-run it's counter-productive to flood the marketplace with so many in such a short amount of time. Eventually, it's going to start backfiring because nostalgia only lasts so long before people start itching for something brand new they can obsess over.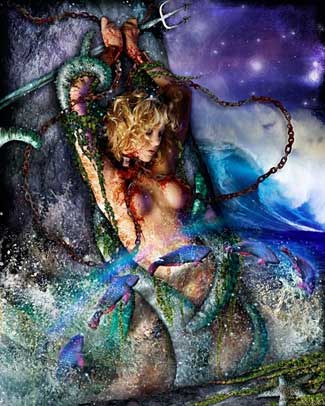 Dr. Gorehound: Favorite Marvel Superhero?
Wolverine, of course – but I grew up with him, and seeing him go from popular to insanely popular makes me feel good that so many other people love that character. Thankfully, when they were fleshing out his backstory, they really hit the mark with his history. Although, I think the whole 'Origin' story was pretty weak – that's a story for another day…
Dr. Gorehound: Favorite Author?
Jason Beam: I'd have to say it would be a draw between Stephen King and Douglas Adams. Two very different authors, but their literature was always something I could easily go back to and re-read. Sadly, I have little time to delve into books – so I'll find new authors I like later on in life.
Dr. Gorehound: Which site can industry peeps and fans contact you for prints and custom made work?
Jason Beam: They can always view my work at jasonbeam.com or on MySpace.com/jasonbeam – and email me at info@jasonbeam.com. I keep pretty accessible, so if anyone wants to talk about a project, I'm always around.
Dr. Gorehound: How was it like working with our own horrornews.net's Dai Green of "Whats the Bloody Deal" on those sexy ass pictures of her? lol Do you plan to make a custom print of her maybe in some kinky vampire wear?
Jason Beam: I had been talking with Dai since about 2000, and we finally got to meet at DragonCon in Atlanta last year, and we had a blast. She was all up for taking some great photos, she was a totally fun model to work with and we got to pal around the Con for a day. We'll have to see if she's up for another photoshoot someday! She's a great gal, and has a lot of desire for this business – she's definitely an asset for horrornews.net.
Dr. Gorehound: Any new upcoming projects youd like to discuss?
Jason Beam: I've been commissioned to do four pieces of artwork for the Purfect Angels nightclub called 'Purr' in LA, and will be flying out there next month to view the installation, as well as go over some other projects ideas with the owner, Lisa Ligon. Now that I am in New York, I'm also refocusing on my Cryptessa project, and looking for a model to be my new Cryptessa – so that's what's going on currently.
Dr. Gorehound: Since you live in the New York area as does yours truly, do you plan to attend the Fangoria Weekend of Horrors in NYC at the Jacob Javit's Center in June of this year with a booth for your art? Id love to meet ya.
Jason Beam: The plan is to have a booth at the Javits – it will be a fun show, and it'll be great to meet ya in person. With any luck, I will have found my new Cryptessa by then, and she'll be at the show with me in all her zombified glory, helping promote a new piece of art! 
Thanks for talking with me and horrornews.net Mr. Beam! :)
Jason Beam: My pleasure doc.
jasonbeamstudios.com
myspace.com/jasonbeam
Graphic Design and Commercial Illustration
For the Horror and Movie Industries
Keep it Gorie
Interview: Jason Beam – Horror Artist