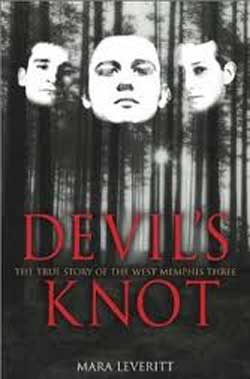 SYNOPSIS:
Three children were savagely murdered in 1993. Weeks later, police announced the arrest of three teens accused of committing the murders as part of a Satanic cult ritual.
REVIEW:
In 1993, three eight year old Cub Scouts were found bound with their own shoelaces and murdered in a ditch bank, in a patch of woods in West Memphis, Arkansas. The area was commonly known as Robin Hood Hills to the locals. Rumors started to circulate through the area and panic began to rapidly take a hold on the once peaceful community.
A local teen named Damien Wayne Echols had been somewhat of a troubled youth. Local authorities had a close eye on him for some time. Directly after the three children were found, two Private Investigators showed up at his home to question him on the murders. A teenager by the name of Jessie Misskelley Loyd Misskelley Jr. was brought into the police station for questioning. He was questioned for eleven hours over the heinous act, with only forty-five minutes documented. He was promised a reward, and hoped to buy a new truck with the money. He then "confessed" that Damien (which he barely knew, and barely knew him) and his best friend, Charles Jason Baldwin, committed the atrocious acts of violence on the three boys. Not only that, he explained that he had witnessed it as well. This information turned him from a witness, into an accomplice.
All three boys faced a trial by jury, and were convicted. Jason Baldwin received a life sentence. Jessie Misskelley Jr. received life, plus twenty years. The supposed "ring leader" of the three, Damien Echols, received the death penalty by lethal injection. The public was relieved that the so-called "killers" had been caught and the accused and convicted's grieving families were left in shock, horror and jaw dropping disbelief. Since then, eighteen years later, the boys [now men] have been released by a legal tactic called The Alford Plea. This is a deal where they plea guilty, but maintain their innocence with time served. They are not allowed to sue the state, along with the guidelines provided. Jason and Damien are not allowed to be around any other convicted felons, with the exception of each other. Since the release, Jason and Damien have done several news interviews while Jessie stays out of the media to spend time with his family and soon – to – be wife.
Three documentaries have been made on the case, called Paradise Lost. The original was subtitled: The Child Murders at Robin Hood Hills (released as a part of HBO Undercover in 1996). Part two was subtitled: Revelations (released in 2000 by Home Box Office) and part three was dubbed Purgatory (which is due to be released on HBO on January 12th, 2012). Purgatory is also contending for an Oscar nomination. Since the documentaries, a support group has spouted over the internet called wm3.org, to help keep the story alive and the public informed. Another site since then has been born called freethewestmemphisthree.net. While both of these sites are in defense of the convicted, there are a few sites that are not.
In addition to the three documentaries, extensive media coverage and two websites as informational material, there were also two books written on the case. Blood of Innocence, which many supporters look down upon, because of its biased opinion and pointing more toward the three convicted. The other book was entitled Devil's Knot, written by Mara Leveritt (see my review on the novel here as well). She was written for The Arkansas Times and is the Author of the novel, The Boys on the Tracks, about the two boys found murdered on the railroad tracks near Mena, Arkansas in the eighties. Mara goes deep into the West Memphis Three case with her novel, Devil's Knot. She was granted access to the West Memphis Police Department's files, which is very rare. Mara Leveritt's novel extensively covers the case in detail that no other form of media has touched, including all three Paradise Lost documentaries, the previous mentioned Blood of Innocence, or news special and footage. The book itself almost reads out as a Fictional Crime Drama story, although the enclosed information on the now infamous case number, 93-05-0666, is all too real. Mara is presently working on the long awaited sequel to Devil's Knot, entitled DK2: Justice Knot, coming soon.
The adaptation of Devil's Knot was supposed to be a USA movie starring Ricki Lake as Pam Echols (Damien's mom) at first, but later got canned. Then, Director, Scott Derrickson (The Exorcism of Emily Rose, Poltergeist re-make) was set to direct a major motion picture a few years later. This adaptation was rumored to star Brad Pitt as Mark Byers and rising star, Michael Pitt as Damien Echols. Just as the USA Movie, this feature was dropped as well after something happened with Director, Scott Derrickson.
Now, in late 2011, Devil's Knot has been resurrected for the big screen. This time, the Director pinned to the project is Atom Egoyan (who is known in the Horror genre for directing Cupid's Quiver, the Friday the 13th: The Series episode, along with two episodes of Alfred Hitchcock Presents and two episodes of The 80's Twilight Zone series. This also includes several other credits as Writer and Director in different genres). The Writers of this feature will include Paul Harris Boardman(co-Writer of The Exorcism of Emily Rose, Hellraiser: Inferno and Urban Legends: Final Cut), Mark Sevi (Urban Legends: Final Cut, Dead On: Relentless II and Relentless IV: Ashes to Ashes). Returning this time as a contributing Writer, is former Director, Scott Derrickson. The film is said to be at a twenty – million dollar budget. It is expected to go into production at the end of this year and hit the big screen in late 2012.
Devil's Knot (2012)