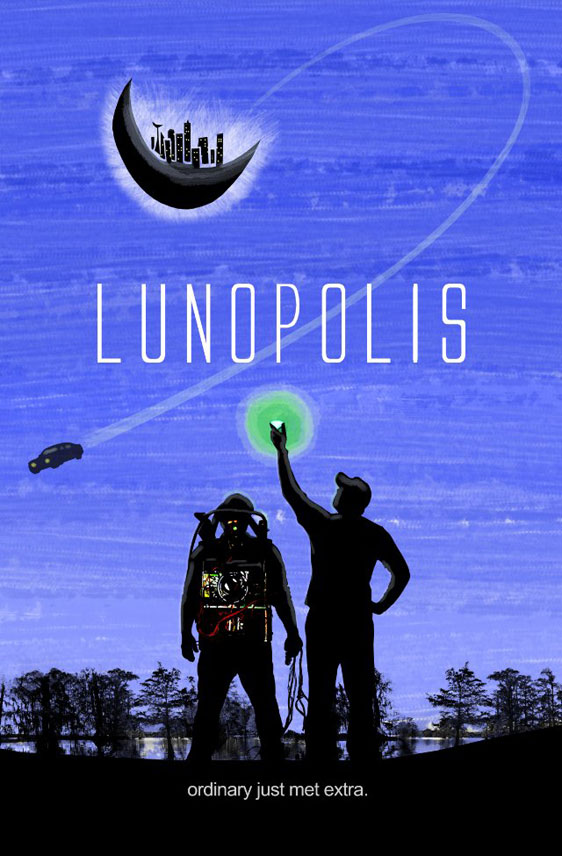 Lunopolis is LUNOPOLIS is presented in widescreen with an aspect ratio of 16:9 and 5.1 Dolby Digital Surround Sound. Special features include the theatrical trailer and audio commentary by Director Matthew Avant and Associate Producer Michael David Weis.
Two documentarians accidentally uncover proof of a hidden city on the moon and the secret society determined to keep it hidden in Lunopolis, landing on DVD Oct. 11 from Walking Shadows (distributed by Virgil Films & Entertainment).
During a late night radio conspiracy show, a frantic caller claims human beings from the future are living on the moon, controlling our every action. The call is cut short … But when a mysterious box arrives at the station days later, documentary filmmakers Matt (writer/director Matthew Avant) and Sonny (co-producer Hal Maynor) pursue the story, tracking a set of hidden coordinates deep into Louisiana's swamps.
Discovering an enormous, underground facility, the duo finds there may actually be truth to the caller's story.Entangled in something meant forgotten, they narrowly escape but soon find themselves threatened by the bizarre and reclusive Church of Lunology, a dangerous group dedicated to safeguarding mysterious secrets and silencing those who interfere.
Hunted and on the run, the men keep the cameras rolling as they fight to survive, discover earth's secret history and reach a makeshift time machine that could unlock the very gateway to eternal life. A mind-bending experience, Lunopolis offers a surprisingly compelling explanation for … well, everything.
Lunopolis has won numerous awards including: Best Director, 2010 Fantastic Planet Film Festival, Sydney; Best Feature Audience Award, 2010 Big Easy Film Fest; Best Sci-Fi Screenplay, 2010 International Horror & Sci-Fi Film Festival; Best Screenplay, 2009 Maverick Movie Awards; Future Vision Award, 2010 Glen Rose Neo-Relix Film Festival; and in 2010 was an Official Selection of the Nashville Film Festival, Orlando Film Festival, Boston Sci-Fi Film Festival, Buffalo Niagara Film Festival, Roswell UFO Festival, Shockerfest Film Festival, Acadiana Film Festival, Sci-Fi-London and Fantaspoa International Porto Alegre.
Lunopolis
Virgil Films & Entertainment
Genre: Sci-Fi/Horror
Not Rated
Format: DVD Only
Running Time: Approx. 98 Minutes (Plus Special Features)
Suggested Retail Price: $24.99
Pre-Order Date: September 6, 2011
Street Date: October 11, 2011
Catalog #: 670777
UPC Code: #829567077726