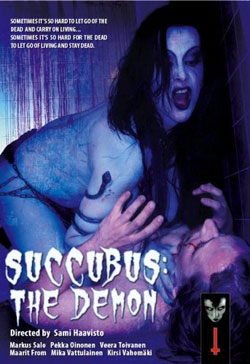 SYNOPSIS:
Following the inexplicable death of his new wife, Laura (Veera Toivanen), Henri (Markus Salo) becomes tormented by a series of dreams he believes are messages from the other side intended to help him unravel the mysteries surrounding the shocking tragedy. But when he turns to the occult for answers, Henri opens a door to a world of unspeakable horror. Co-written and directed by Sami Haavisto, this chilling tale also stars Maarit From.
REVIEW:
Like many of the Redemption titles I've seen you never know what kind of trip they are going to take you on as the films range from bizarre to gothically demented. Succubus the Demon, a Finland Film had a few of the common Redemption elements but also is heavily rooted in the mystery genre. With it's rather solemn intro of death , a funeral and a burial it begins with Henri our recently widowed husband who lost his wife Lauri to an unknown illness. Still having a hard time coping with his wife's death, he goes though several stages of distraught, denial and remorse.
The state of mind has effected his sleep, his work and his life in general as he is haunted nightly in his dreams and seems to have given up almost completely on his work ethics. His day job as a contract manager seems to be slipping under his fingers as his accounts are given to other staff members. His boss who pretends to care, assigns him to a shrink while in the background plots against him due to his lack of motivation lately. Behind Henri's back there is much talk of his former wife's adulteress past and her open lifestyle that indulged more often than taking her marriage seriously. These notions progress in detail as Henri relives memories of before she died. More questions are raised on the strange drug substance that was found in her blood and the circumstances surrounding it.
We spend most of our time with Henri as he relives the past, and struggles with life in general. It doesn't help that he professes to seeing vision of his dead wife at night and in his dreams.
Henri who's become obsessed with reaching his wife in the afterlife takes it to the streets by visiting several psychics and fortune tellers. Most of them a product of fraud, he finally meets a lady who gives him an ancient book that he can use to summon her from beyond. This ritual brings back more than just his wife but the "succubus" herself that enters into Henri's realm. This also influences the dark forces from beyond to consume Henri in his quest. The nightmares increase and in an act of proving himself Henri even goes as far as to video tape while he's sleeping.
The movie ramps up the skin in the last act as it spirals into a surreal scene of lesbian demon orgies and succubus lair shots that owes a tip of the hat to Kent Russell. Stick around because there is a darker history that led to Lauri's death.
Now reviewing this film would be foolish without mentioning the fantastic score composed and woven into the movie by Mikko Mustonen. In fact, it catches you a bit off guard because its usually not the level of score provided on a low budget film. The music reminded me of that you would hear in "Interview with a Vampire" or some other epic high dollar film. Lavish in orchetstrations and sound design it is perhaps the unspoken star of the film.
Director Sami Haavisto has an eye for gothic style films. With a bluish/ purple look to it and a pretty involved story line I think this is a good product with some decent visuals. Mostly a mystery you do get a share of horrors but more on limited basis.
In fact I would recommend that you overlook the the standard looking cover art and check on the film itself. With a cover art sleeve that basically is just a photo from the film, the title may suffer on the marketing end a bit in presentation. Though don't let that sway you, Succubus is a tightly wound piece of gothic cinema made for dark style movie watchers.
Succubus: The Demon (2006)