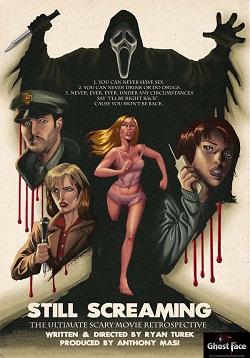 It's only been a few months since all the huge hype over SCREAM 4 was ruling the horror sites and when it was I told you all about this new documentary by Ryan Turek who runs SHOCK TILL YOU DROP. Reported on it once and never heard anything else about it, till tonight. Word has dropped that the project will be heading to Blu-ray but with a bit of a catch. Seems that if you want to see all of Ryan's hard work you're going to have to pick up the Blu-ray 3 pack that Lionsgate is planning for a Sept. 6th release.
The docu will apparently be included as a fourth bonus disc.
No plans on releasing it as a stand alone, at least that anyone is talking about.
If you haven't already picked up the three on Blu-ray then this is a pretty kick butt announcement but if you've already laid out the dough for the seperate flicks, you're kind of bumming.
If anything changes I'll let you know.
Here's what STILL SCREAMING is all about:
A year in the making, Still Screaming is the definitive documentary on the making of the iconic Scream movies. Dive into the fascinating success story of the classic trilogy with on-set footage and photos, and dozens of brand new interviews with cast and crew from all the films including Wes Craven, Neve Campbell, Liev Schreiber, Henry Winkler, Matthew Lillard, Jamie Kennedy, Laurie Metcalf, Parker Posey, Scott Foley and many others. Written and Directed by Ryan Turek and Produced by Anthony Masi.
I don't know about you, but I want to see this bad boy. Maybe if we ask Ryan real nice he'll make it happen as a stand alone disc.