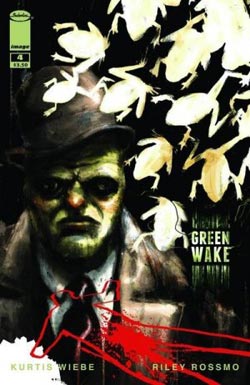 Issue: Green Wake #4
Writer: Kurtis Wiebe
Artist: Riley Rossmo
Publisher: Image
Release Date: July 2011
Pages: 32
Price: $3.50
"The revelation of Green Wake's next murder victim sends Morley on a frantic mission against time. All the events in Green Wake begin to converge, combining together to reveal the darkest of its mysteries. But for Morley, there is more than time working against him, and allies aren't always what they seem."
Artwork: 5.0 out of 5
Well I don't really know what is left to be said about Rossmo's work on this book. I would say GORE-Geous again, but I have before. I would say I had an eyegasm, but I have before. I think all that is left to be said is that from what I have seen of Riley's work, this is the book he was just perfect for. This issue itself has 2 pages that just made me drop down to my neck and beg for more. The first was a full-page panel that consisted of a murder, and I won't say no more. The second was the final page of the book, where I just internally wept due to how perfect it appeared before my eyes.
Story: 5.0 out of 5
What is going on here, the mystery is unraveling and I am getting the answers I sought out for so long ago. This issue begins to bring things together, and it does it so perfectly while adding on one final enigma to the events. The dialogue is as spot on as ever, but where this issue excelled was the pacing. There were short downtime moments followed quickly by intense action. This issue was just done right.
Dying Breath: 5.0 out of 5
Making the perfect comic book takes something a little extra. First you need to have the 2 right people for the job(for the most part 2 people work on a book). Second you must have the right idea, so that when a decapitated reviewer reads it, he knows that no one else could fill in for either the story or artwork for that particular issue. Rossmo and Wiebe reached that plateau in this issue and I hope it takes a long time before they think of climbing down. Of course in order to do that Green Wake needs to go past 5 issues. This issue was nothing but solid and I can not wait to see how everything plays out in #5. I can't even say you should check this out because, you should have been reading this one from the start.
If you would like to buy or know more about Green Wake you can find it at greenwakecomic.com/
Green Wake – Issue 4