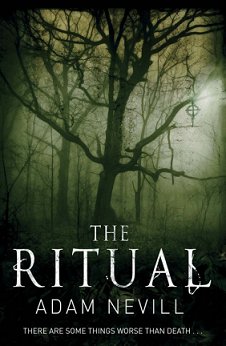 THE RITUAL
Synopsis:
Four old college friends reunite for a fun-filled trip to the woods. Unfortunately, people change and the group realizes that they aren't as close as they were when they were all still in college. Worse yet, they have seen to have taken a wrong turn and soon find themselves hopelessly lost in the vast wilderness. The fun-filled trip that the group hoped for soon becomes a living nightmare as they realize that there is something following them as they try to make their way back to civilization. Will any of them ever get out of the woods alive?
Review-After reading (and reviewing) Adam Nevill's excellent and creepy novel "Apartment 16 I was eager to check out some of his other stuff. This guy is talented as hell and is a great storyteller, so I was very happy and excited when I got his newest book, "The Ritual in the mail. I started reading it immediately and had very high hopes for it that it would be as good as "Apartment 16. I had an absolute blast reading it and can honestly say that this book is actually the better of the two. I wasn't disappointed at all and thought that this book kicked all sorts of ass. It is well-written, has some great characters, and is effectively disturbing without trying too hard like some other novels I have read recently. "The Ritual is pretty damn awesome and I think that most people who pick it up will agree with me.
I really enjoyed the basic plot of the novel. Some people may argue that it isn't the most original premise in the world, and they are right to an extent. However, Nevill does an excellent job of taking an idea that has been done before and putting his own spin on it. Yes, some of it is a bit similar to Stephen King's novel "Dreamcatcher (in regards to old friends going on a trip together in the woods and running across something horrible and evil), but I think that "The Ritual is much better in general. I've read several books that tackle the same subject matter in some way or form, but Nevill does it better than anyone else. Don't believe me? Then grab a copy of this book and see for yourself.
I also liked the characters as well as they are realistic and are all very well-rounded. They are likable (for the most part), and you can't help but feel for them as they are forced to make the best out of the situation that they find themselves in. I can totally relate to the characters and since I have a group of friends that I met in college that I hang out with every once in a while I can totally attest to the fact that sometimes people do change over time and they end up being very different from the person you had all the great times with in the carefree days of college. I think that the characters are one of the main reasons that I did enjoy the book so much. Not only do they have to contend with injuries, being lost in the woods, and being pursued by an unknown force, but with each other as well. I think that if something like this happened to me and my pals from college we would end up killing each other just a few moments after getting lost and wouldn't have to worry about the thing following us.
Nevill's writing style is top-notch and he is one of those guys who can just naturally tell a good story with little to no effort. He doesn't rely too much on shock value or try to gross out the readers like some writers do, and instead relies on his natural writing ability to entertain others. "The Ritual is easy to get into since Nevill's writing is so good, and if you are like me you will have a hard time putting the book down once you have started reading it. There is no doubt that Nevill has a gift for writing, and I wouldn't be surprised to see him become a huge name in the world of horror very soon.
I dug the hell out of "The Ritual and I think that a lot of other people will too once they read it. It is a great read that has a little something for everyone and I honestly can't think of anything negative to say about it. I look forward to Nevill's next book, and in the meantime I can see myself reading this one over again. Pick up a copy for yourself and plan on spending many non-stop hours of reading it. Highly recommended.