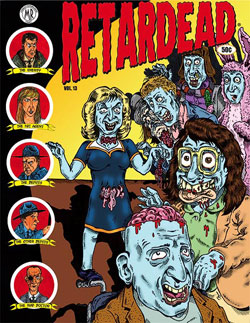 SYNOPSIS:
The evil Dr. Stern returns, armed with a lethal intelligence serum that yields horrific results at the Butte County Institute for Special Education
REVIEW:
As the markets flood with horror films of all shapes and sizes, it's still a pleasure to come across films that mix comedy and horror. The level of effectiveness varies but most of the time you get a few laughs along the way whether they've been written in or not.
Out of that mix comes a variety of ways that the comedy is presented. In my recent viewing of the film "Retardead", the filmmakers opted to pull a few surprise than your usual comedic situations horror comedy. As the film begins, we are subjected to a a few servings of old school trailer and commercial segues. The retro style combined with a play on words, past mockings of drive in commercials and a display of vulgarity for shock is pretty damn hilarious. "Pants-sh*tting terror", "It will shock the living f*ck out of you" statements are effectively tied into cheesy old school teaser trailers. Campy and fun we get "Frankenstein and Bloody beast of ghastly terror" & "Dracula vs' Jack the Ripper", both funny in there mocking of a long forgotten trailer styles. Complete with off track ADR's and cheesy transitions, I loved this portion of the film.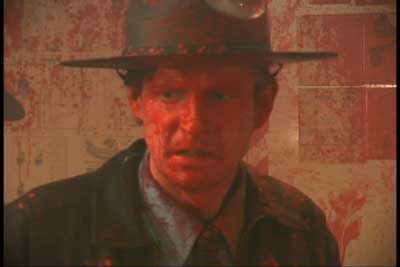 Though just when your thinking that the film is made up of trailers we get to the heart of the presentation.. "Retardead", the movie.
Our film plays out in a small town that seems to have no problem taking villains like "poop man" and the "Weeny wagger" serious enough to have the local police out trying to put an end to the reports and mayhem they ensue. It also provides great opportunities for lines like " I'd hate to be scraping his pecker snot off of your window" or "everything was going fine until he hit me in the face with his penis gun"….how can you not love that? The origin of characters like poop man appears to stem from the experiments of one Dr. Feldmen. Feldmen takes a job at a local school for retarded kids with the promise of rehabilitating them into intellects.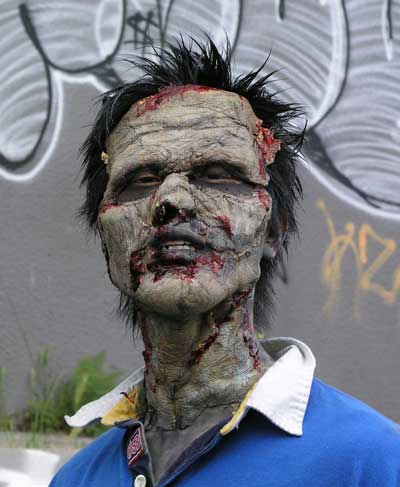 The experiment goes well, maybe too well as the mentally challenged go from idiot to genius over night. The result is a change in attitude such as recitations of dissertations, fine foods, increased vocabulary and assorted evidence of high intellect. Though of course, there are side effects! The effects are the breakdown of the subjects into full fledged flesh eating zombies. The Dr. wastes no time in feeding them school employees to cover his tracks.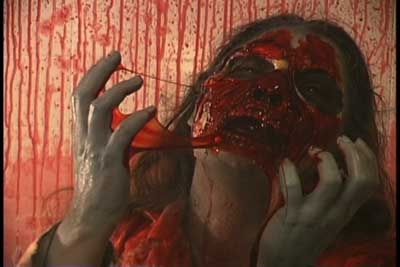 The zombies get out of control and become a major epidemic for the community of Butte County. Business as usual,l the locals try and correct the problem with a variety of absurdness. One such idea even includes the baiting per way of human flesh suite to drive them out into the open. In any case, moments like these provide some pretty crazy entertainment value.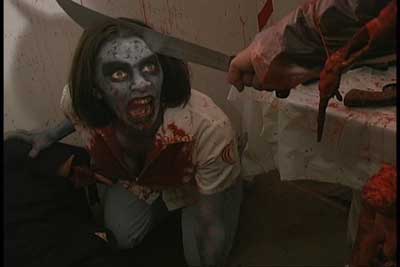 There's alot of humor in this film that varies from script lines to just the actual footage. The intention was to be campy which combines nice with a stellar FX work job by Ed Martinez. For that matter, the film features better effect work than I've seen in several high budget productions which is a kudos to the team.
High point? The dance of the seductive female zombies, some choreographed and somewhat free for all, it's surely entertaining to watch as they prance, lurk, graze and gyrate like a pack of hungry cougars. In fact the behind the scenes, features a nice portion of this segment. While it would have been easier to just say, attack the camera and lunge at the victims, the extra mile of toning it up with a pseudo dance routine really made the segment work.
As there seems to be no shortage of zombie films these days, the need for inventiveness has never been greater. "Retardead" hits alot of it marks with effective gory scenes, silly script lines and a touch of old school humor thrown in for good measure. Directed by Rick Popko & Dan West, it's not perfect but it has plenty of fun moments and dialog. Every horror fan needs a good laugh now and then, and with "Retardead" there's plenty of it!
Retardead (2009)