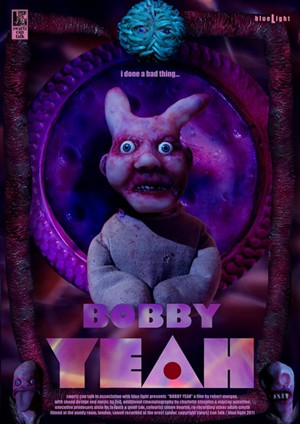 "One of the most visionary filmmakers working today. Imagine a fusion between the sensibilities of Salvador Dali, David Cronenberg, Ingmar Bergman, Tim Burton and the Quay Brothers, and you'll have a partial idea of the sheer brilliance of this man's work."
Mitch Davis, Rue Morgue Magazine.
As the above quote suggests, Robert Morgan is one of those rare filmmakers that you know are destined for greatness. Though his groaning awards cabinet would suggest that he's already achieved it. A conjuror of twisted, dark, nightmarish visions, he's created a number of short films that have won him accolades at film festivals across the globe. A master of stop-motion animation, I'd be tempted to say he also works in conventional formats – but 'conventional' is a word that could never be applied to any aspect of his work. As he prepares to launch a new animated grotesquerie, 'Bobby Yeah', I psychically projected questions through the walls of the haunted house in London where he currently resides.
PH: Rob, please tell us a little more about Bobby Yeah
Bobby Yeah is a 23-minute stop-motion animation film. It's about a petty thug who steals the wrong person's pet, and gets into some very weird and scary scrapes as a result. That really doesn't do it justice though. I think it's fair to say that Bobby's adventures are quite indescribable. It's a very weird, delirious trip. Watching it is like having your eyeballs raped by ten giant babies with candyfloss for hair. Or at least that's my hope (one must aim high).It's taken about 2-and-a half years to make. I've had some terrible delays in post-production but it's nearly there, and will start showing up in festivals soon. There's a facebook group dedicated to it, so you can follow any news and updates there: www.facebook.com/bobbyyeahfilm
Also, I'll be posting Bobby news on my website: www.robertmorganfilms.com (I'm currently selling DVDs of my previous films there too, so GET IN)
PH: Your work is literally the stuff of nightmares – where does your predilection for the darker side of life originate?
Not sure where it comes from. I've always liked horror films, and I suppose when I was a kid I liked lifting up rocks to see what was underneath – maybe it's an extension of that. I'm certainly not a dark kind of person. It's not like I sit in some Gothic mansion drinking Absinthe and thinking this stuff up. I just like to make films about these fleshy abominations having a really bad time. I don't know why.
PH: What is it about stop-motion animation that you love so much?
It's got a sort of Frankenstein quality to it – that idea of bringing inanimate objects to life, and I like the movement it creates – it's sort of controlled but awkward at the same time. I really hate it when stop-motion is too smooth – it defeats the whole point. You might as well do CGI.
PH: Could you tell us more about your influences?
Artistic Influences come from all over the place – Tod Browning, David Lynch, the Quay Brothers, Francis Bacon, Hans Bellmer, Edgar Allan Poe, David Cronenberg, Roman Polanski, Suehiro Mauro, Charles Burns, Renee French, Jim Woodring. I could go on and on…
PH: What are your favourite horror films and books?
I can't narrow these things down to just one – there are far too many. Off the top of my head, some of my favourite horror films are: The Texas Chain Saw Massacre, The Thing (the Carpenter version), The Tenant, The Shining, Lost Highway and Tod Browning's 'The Unknown'. Favourite horror books – I grew up on Poe, and I love Cormac McCarthy (not exactly horror but pretty apocalyptic at times)and Thomas Ligotti.
PH: What's the best film you've seen in the last few years, horror or otherwise?
Again, I can't choose just one, but there have been some amazing films that came out in the last few years – Inland Empire, Enter the Void, Amer, There Will Be Blood. I also really liked White Lightnin' and Hunger.
PH: Can you tell us anything about your future plans?
I don't like to plan too much, because life tends to laugh in my face when I do. Although I can say that I like to alternate between animation projects and live-action projects. I'll be spending the next few years concentrating on some live-action films, so hopefully in 5 years I'll have finished them and will probably be doing another animation film.
[youtube]http://www.youtube.com/watch?v=jaS_S5Gt7L0[/youtube]