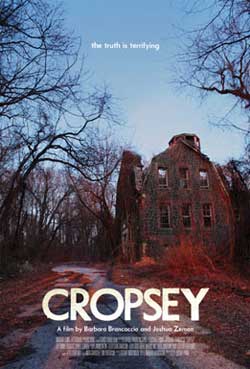 SYNOPSIS:
Realizing the urban legend of their youth has actually come true; two filmmakers delve into the mystery surrounding five missing children and the real-life boogeyman linked to their disappearances.
REVIEW:
You may have caught wind of this film thru message boards or fan buzz, but I will say that I really didn't get the grasp of what it was about till I sat down with a copy. The movie is a well told documentary that focuses on the controversial issue of the André Rand case.
The name "Cropsey" as we are told is explained as being the nickname given to a urban myth that was instilled in young folk and locals who lived in the NY, Staten Island area. The best way to describe it is an urban boogey man tale. "Stay away from the waters or Cropsey will get you. Stay out of ……… or Cropsey…etc. We have all had our share of warning myths created to scare, prevent or keep others out of places they shouldn't be. If only it was myth, this film might be a tale of fiction.
The myth planted a seed in peoples mind that was proven to be a reality years later in the story of André Rand. We are told about his previous job as a caretaker for the Staten Island Development Center. The facility was a beaten and under-maintained situation that had several of its younger patients under the duress of poor care and accommodations. Really a sad tale in that sense. As time went on and the facility was eventually closed, we discover that several of its patients may have lingered around, gone underground or just fell way to being forgotten. In any case, the area didn't really get headlines till there was a series of missing persons who were of thought to have wandered into the area and subjected to kidnapping, murder or some means of rape and extermination. In fact, we never really get all the answers on this but only that the town needed a scape goat and the bizarre, reclusive nature of André Rand served as a perfect fit for the disappearances. Whether the facts presented fit the profile or not…they are presented so that we can make our own determinations.
We learn about the Holly Ann Hughes disappearance. We learn about the murder of Jennifer Schweiger. We learn about several cases that ultimately lead to Rand as a suspect, villain and scape goat. It's 20 years later and the case itself remains still completely unproven and determined (on the most part). Though we tend to learn that the scapegoat issue is something that the people of NY "needed" in order to sleep better at night.
Thru news reports we are shown and told about situations such as these: "On January 9, 1983, Rand collected eleven children from West Brighton, loaded them into a van, and set off on a five-hour jaunt into Newark, neglecting to ask parental permission. They spent the day eating hamburgers and watching planes land at Newark airport, and while none of the children were harmed, Rand was arrested on charges of unlawful imprisonment, convicted in March and sentenced to ten months in jail. He was back on the street by August, listed as a suspect when ten-year-old Tiahese Jackson vanished on Staten Island."
The film does a great job at really presenting both sides of potential perspectives. While we get plenty of news reports, court cases, headlines and interviews with locals regarding the Rand tale we also get a reverse perspective thru Rand's letters, thru the friends of Rand and even thru the local police.
The documentary is backed up by a very impressive amount of back footage, clippings, news stories and footage centered around Rand himself. They even progress up to a potential interview with Rand who now resides at Riker's Island, after a long back and forth letter writing session that is set in place to build upon his trust and perhaps even look into his mind from inside the prison walls.
The film as it stands still leaves room for growth as future determinations are made and the news reports on them. Perhaps a Cropsey part 2. If you are interested in the case you can follow a few of the real reports thru this link
www.nydailynews.com/topics/Andre+Rand
I though it also might help with this little bit posted on Wikipedia:
Cropsey is a 2009 American investigative-crime horror-documentary film, written and directed by Joshua Zeman and Barbara Brancaccio. The film and its title uses the urban legend of "Cropsey", akin to the various incarnations of the Boogeyman, as an introduction to what eventually leads the film to its intended subject: Andre Rand, a convicted murderer of Staten Island, New York.
As Tribeca Film Festival (Cropsey premiered there in 2009) programmer David Kwok stated: The eeriness of the mystery pulsates through the film as they journey into the underbelly. As more information and clues unravel, Zeman and Brancaccio become more immersed in shocking surprises and revelations. The reality they uncover in this uniquely hair-raising documentary is more terrifying than any urban legend.