Academy Award nominee, veteran animator, and director Bill Plympton (The Cow Who Wanted to Be A Hamburger, Your Face and the award winning feature film Idiots and Angels) has agreed to be a guest panelist at the 12th Annual Tromadance Film Festival (April 22-23, Asbury Park, New Jersey), it was announced today by Tromadance Founder Lloyd Kaufman. Mr. Plympton will be appearing Saturday, April 23 at the official Tromadance venue, the Showroom Theater (708 Cookman Ave, Asbury Park, NJ 07712).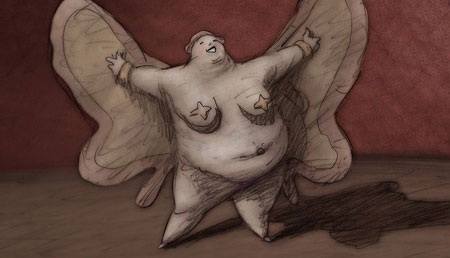 Mr. Plympton has contributed cartoons to publications such as The Village Voice, Rolling Stone, Vogue, and Vanity Fair. His animations and short films have appeared on MTV's Liquid Television and Cartoon Sushi. Mr. Plympton has also created ground breaking animated music videos for artists Kanye West, Madonna, and Weird Al Yankovic.
Mr. Plympton's latest feature length film, Idiots and Angels, distributed by Passion River Films, is currently touring the nation. His new book entitled Independently Animated: Bill Plympton, will be released on March 22 from Rizzoli Books. Mr. Plympton is also the subject of the upcoming documentary Adventures in Plymptoons, directed by Troma alums Alexia Anastasio and Kevin Sean Michaels.