Published in numerous publications and CD packages worldwide, Eyes of Chaos has created imagery for just about every horror medium in the genre.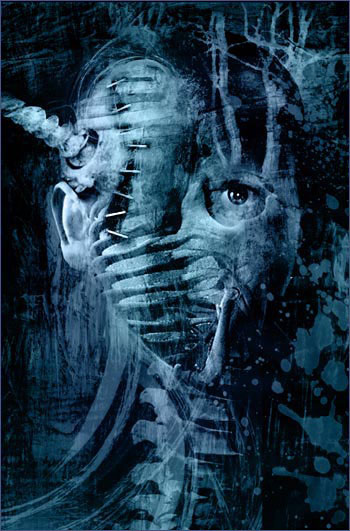 Including:
– Created book cover art for number of horror's finest authors.
– CD art and packaging for hundreds of music acts.
– Self-published 3 art/illustration books titled: "Madness on Parade", "Inner", & "Dark Visions".
– A regular illustration contributor to several national publications.
HISTORY:
– In 1992, Created Eyes of Chaos to serve as simply an online portfolio.
– In 1997, Eyes of Chaos was established as a permanent fixture and online presence to cater to horror graphic needs.
– In 2005, Nightmare Kinetics was formed in the interest of post production and film making.
ARTISTIC INFLUENCES:
Sounds of David Bowie, Gary Numan, NIN, and the films of Lynch, Kubrik, Cronenberg, Tony Scott, & Oliver Stone.
EYES OF CHAOS BOOKS:
To purchase Eyes of Chaos books – You can order per print on demand from this link
WEBSITE:
www.eyesofchaos.com (WEBSITE CLOSED)
UPDATE: eyesofchaos.com  SITE is currently on hiatus till further notice
You can contact the artist directly at news@horrornews.net for private freelance work
Previous ART is still available for CD covers or Book covers, email here directly for access to archives