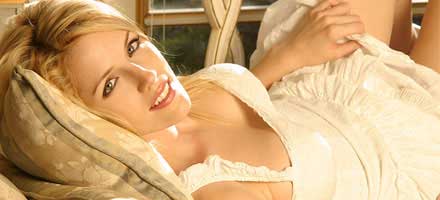 BIO:
Suzi Lorraine, an actor, writer and model from NYC, has appeared in GQ, Esquire, FHM, Modern Bride Magazine, Filmmaker Magazine, Marquis Magazine, and Varla Magazine, and has done extensive print work including ads for Nike, Mercedes, Electric Lingerie, Tosca Olive Oil, Floodline Clubwear, All the Rage jewelry, and numerous swimsuit catalogs and music videos. She starred in many indie films, and is drawn in particular to the horror genre. "I've always been attracted to that kind of stuff – I grew up on horror movies and to this day it remains one of my favorite film genres. And I love roles where I play the antagonist, and have the opportunity to be totally over the top and larger than life." Check her out in "Holocaust Holocaust", "The Night They Returned", "Torment", "She Demons of the Black Sun", "Sea of Dust", and "Rise of the Ghosts" many of which premiered at the Fantasia Film Festival in Montreal and/or other film festivals around the world.
Her other acting credits include a small but notable performance opposite Hugh Grant in Warner Brothers "Music and Lyrics", "Parco PI" TV series on Court TV, "Knock Knock" with Ariola Productions, "RECON 2022" with Movie Seals Productions, "Cold Blonded Murder" with SVBI Films, "Chainsaw Sally 1 & 2″ with Planet X Entertainment", "Last Rites" with Insane O Rama Productions, and "Countdown to Extinction" with Dyers Eve Films.
Suzi is also a columnist for Horror Mania Magazine, which is a mainstream horror publication based in Italy. She also writes a "Diary of A Scream Queen" column for Gorezone Magazine, which is based in the UK. Last but not least, she is also a columnist for Insomnia Magazine (UK) penning the offbeat "Stateside With Suzi" feature.
In her free time, she enjoys traveling, music, yoga, hiking, spending time w/ friends and family, gardening, reading, horseback riding, swimming, theatre, movies, sleeping, working out, and collecting Alice Cooper memorabilia.
Suzi Lorraine – Actress | Scream Queen | Horror Vamp