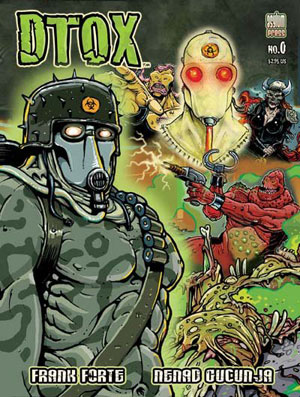 DTOX (MAG/COMIC)
Written by Frank Forte
Artwork by Nenad Gucunja
Published by Asylum Press
Publication Date: 2009
Format: Color
Price: $2.95
Vivid, imaginative and jumps off the pages with deadly force! The name of the publication "DTOX", a special edition "biohazard comic/magazine that's short but sweet. This issue numbered #0 comes to you from Asylum Press by the team of Frank Forte and Nenad Gucunja. Set in apocalyptic Detroit we are greeted by a band of biohazard cretins on the war path to infect and kill anything and everything they choose. The protector? A military mammoth warrior named DTOX. With is trusty tank vehicle and weaponry he turns these deformed zombie creeps into liquid goo per way of his blasters and assorted arsenal. A straight spray and acid bath is usually all it takes. This issue he is rescuing a maiden in distress by the name of "Killvixen". Pretty simple story but embellished with kick ass artwork and colors that glow. This is a world that promises some pretty lethal action and metamorphosized monsters. My favorite in this issue goes ny the name of "Helldog" a dog with a hand for a head and "Sfinktor" a literal piece of levitating sh*t…cool eh? Our characters are creepy and dynamic…kind of what you'd expect from a Heavy metalmagazinee…but cooler. Too bad Hypnorg was taken out in the first issue as he was quite beast!
Now the book itself is loaded with sketches, concept art character descriptions and details which makes for a pretty cool overview.
Most of the pages are presented in the end chapters in their original pencil sketches as well.. I for one love to see the transformation process, so good deal. Nenad sure knows how to make the villains jump off the page from pencils into pen, ink and colorizing!
This is a title I'd love to see more of in longer extended editions. Better yet an animation someday (hint)… though pretty kick ass stuff….. We at horrornews.net love this kind of bio-cretin-zombie-beast material….You can pick this up and many more read at Asylum Press
Available from www.asylumpress.com