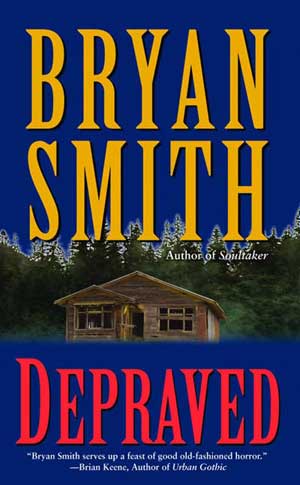 DEPRAVED
Written by Bryan Smith
Published by Leisure Books
Publication Date: 2009
Format: B&W – 336 Pages
Price: $7.99
Having read Bryan Smith's The Freakshow, I knew what I was getting myself into when I purchased and read Depraved. Now for those who have read The Freakshow, Depraved is ten times worse in regards to the shock factor. You have incest. You have backwoods hicks who run sex trades.
You have a whole lot of crazy sh*t happening all at once and just when you think it can't get any worse, guess again. You're thrown back into the mayhem contained within the pages of this book. Very sick stuff indeed, I wonder how the author was able to get away with writing the insanity that took place in this book. The gore was a hundred percent available within the pages. There were buckets galore. A lot of disembowelment and a lot of cannibalism, the killing wouldn't stop. Aside from the killing there was a story. It just wasn't about blood and guts and sex. There was the story of a group of people who had to fight to survive.
Sure some of them endured the most horrifying things that could ever happen to a person, but the characters were well defined and were well drawn. These were characters that you could grow attached to and feel sorry for the situation they found themselves in. I often wondered how these people were going to survive after all of the despicable acts of violence and degradation that happened upon them.
The world these unfortunate people were stuck in was something beyond their wildest nightmares that they could ever stumble upon. The town itself was like that of a black hole; anyone who entered it was swallowed up and never seen again. This was not just any horror novel. It was a novel about survival and what one would do in order to stay alive no matter what some of the most depraved acts of violence were thrown their way.
This is another reason why this author shouldn't be ignored. He's right up there with Brian Keene, Jack Ketchum, Richard Laymon and Wrath James White. Bryan Smith has a bright future ahead of him. I cannot wait until his next book comes out. The writing was very strong. This isn't another one of those books where it would take forever to get into, the action starts immediately and for those who are a bit squeamish, you would not want to read this book. It is that violent and disgusting. On second thought, this book is really depraved. Violent and disgusting would only be compliments. Bryan Smith knew just how to make his readers squeamish and from what I've read, he's doing one hell of a job. I strongly recommend Depraved and would give this book ten bloody hearts. You won't regret reading this book.
Available at LEISURE BOOKS
Available at AMAZON