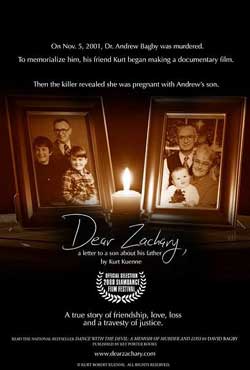 SYNOPSIS:
A filmmaker decides to memorialize a murdered friend when his friend's ex-girlfriend announces she is expecting his son. 
REVIEW:

True Crime Documentary
Written and Directed By: Kurt Kuenne
This film documents the life, times, family, and death of a man named Dr. Andrew Bagby whom back in 2002 was found dead in a park in PA. His childhood friend, and former director of many adorable homemade movies, Kurt Kuenne set out on a mission to collect every memory of Andrew that he could possibly find to give Andrew's son Zachary a huge glimpse of the man who fathered him.
The film has interviews with Andrew's closest friends, family members, collogues, and biggest supporters as well as a detailed account of the court battles that would stem from his death.As I get into the review from here I would like to ask that if you have not heard of this case and would like to go through the life and times of Andrew Bagby without any further knowledge, please stop reading here and go check out the film.
I went into this film without previous knowledge of the case and have to say that although it might have softened up the blow to know what was coming up, I wouldn't trade the kick in the gut for anything. Sometimes we need things like this to kick us in the gut to make us wake up and smell the injustices that exist in the world today. If you have heard about the case, you will be please to know that you will be well informed of the thing you have read about and watched on the news and will probably have many questions answered by this doc.
And now that I have said that, I will go into the review:
In 2002, a man named Dr. Andrew Bagby was found murdered in a park in Pennsylvania. He was shot multiple times in the head, chest, and buttocks while also incurring blunt force trauma to the back of his head. Finding a suspect wasn't very difficult as he had let a friend know he would be meeting his ex-girlfriend Shirley Turner in that very park.  She fled back to her native Canada to avoid prosecution but was arrested by Canadian officials at the US's wishes.
Shortly after her arrest she announced that she was four months pregnant with Andrew's first and only child. This set off a custody battle with Andrew's parents who had moved to Canada after finding out about the pregnancy.
After the birth of the child, whom Turner named Zachary Turner, Kate and David Bagby (Andrew's parents) were forced to wait a month after Zachary was born before they were allowed to see him. Shirley was allowed to have custody of Zachary, even with her impending murder trial for his father. A judge revoked her bail and sent Turner to prison so she gave custody of Zachary to the Bagbys. After a short while, and a crazy decision by another judge to release her once again from jail, she was back on the street and regained custody of the child. A short while later Turner met a man and began dating him until he found out that she had been accused of killing her ex-boyfriend. When he broke off the relationship, she unsuccessfully tried to commit suicide on his doorstep. When that failed to get him back, she came up with a more sinister plan to exact her revenge and sadly took two more lives. One of them being her own and the other being baby Zachary. With the background explained a bit, I would like to introduce Kurt Kuenne.
Kurt grew up with the love of filmmaking since he was just a young kid. And one of the stars of his films was his best friend Andrew Bagby. The relationship between these two young men was pretty ordinary of two boys whom had grown up together but would prove to be extraordinary when forces other than nature separated them. He will be the man who takes you through this incredible and heart wrenching journey not only through the judicial system but into the hearts of those who have kept Andrew Bagby's memory alive.
Not many times has there been a film that has gotten me to the point of crying so hard that I could not breathe. Simon Burch, Life Is Beautiful (the Italian film) and Carrie (gimme a break, I was a kid) were some of the films that brought me to a blubbering pile mostly because I avoid films like that at all costs. But this film reduced me to a sobbing mess. Yes, the "Horror Queen" cries (keep your snickering to a minimum, please). Now I know you are asking yourself, "Why is she reviewing a film that will make you cry on a horror site?"
Well, because of the basis that it is a true crime documentary (which true horrors are always scarier than fictitious ones) and because I can not stress enough that you need to see this film. Kurt takes you through the facts of the case in a very unbiased manner, which I find amazing considering his closeness to the case, as well as giving you a first hand look into the life of the victim.
I can tell you the years of making movies as a kid must have done him some good (not to mention his years of film school) because this film is so well done and put together, visually, it is one of my favorites as of late.
Kurt has a real talent for story telling as well as being able to bring a film of this magnitude together is a seemingly easy way. But now consider that he included interviews with over 60 people, news footage, home movies, and many photos. When this is all edited together without a hitch, it is something to talk about.
This is a compelling, heart wrenching, and informative film that is an amazing example of what someone with talent and heart can do. My admiration goes out to this man.
I would absolutely recommend this film to all of my true crime lovers as well as the fans who don't mind a few tugs at the heart strings.
I would like to personally extend my thanks to Kate and David Bigby. You two have gone through a world of pain only to be knocked down again and instead of letting it keep you down, you became the rock that will save more people than you will ever know. The courage and strength that it must have taken you to overcome all of the sorrow and turn these tragedies into triumph is something that most people will never know. The two of you are the reason many people will keep their lives. I thank you for that