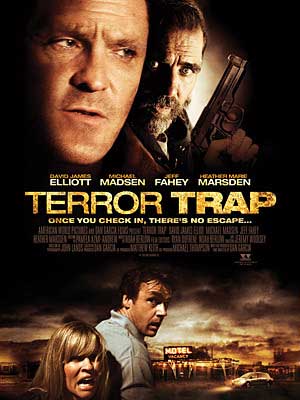 SYNOPSIS:

Driving to a weekend getaway, a car breakdown strands young couple Don and Nancy (David James Elliot and Heather Marsden) while passing through a small, rural Louisiana town. Finding the couple on the roadside, the towns inhospitable Sheriff Taylor (Jeff Fahey) tells them therell be no one to repair their car before morning. He directs them to a nearby motel for the night run by Carter (Michael Madsen). Checking into the seedy, rundown establishment, Don and Nancy have no way of knowing how this place deals with outsiders. Badge aside, the Sherriff answers to Carter, as do a gang of twisted, masked kidnappers, torturers, and killers. By the time Don and Nancy realize whats happening, its too late to flee. They must fight to survive the night, or be the next victims of the Terror Trap…
REVIEW:I have a soft spot for Michael Madsen. Ever since I flipped out over "Reservoir Dogs", I have made it a point to watch as much Madsen as I possibly can. He has turned in some great performances (Reservoir Dogs, Donnie Brasco, Sin City to name a few) and sometimes borrows from past performances to insert into whatever film he is appearing in to most likely cover the debts he has racked up over the years. One thing you can count on is that he is never dull to watch. Hell, I even watched "Free Willy". While his foray into television, the short lived CBS series "Vengeance Unlimited", was a perfect showcase for his talents, his films are usually hit or miss. Then again when he is doing ten to twenty films A YEAR, there is bound to be a few duds and unfortunately, "Terror Trap" isn't one of the better ones. While not a bad film, it misses the mark, which is a shame since it featured two wildcards like Madsen and Jeff Fahey who were the only actors attempting to save this film.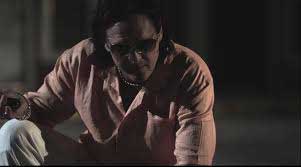 A young couple, Don (David James Elliot) and Nancy (Heather Marie Marsden) are on a weekend getaway and can't seem to get along. They find themselves victims of a hit a run. That turns out to be the least of their problems when Sheriff Cleveland (Jeff Fahey) shows up and takes them to a motel to stay till morning. The question is: will they live that long when they become the entertainment for a group of spectators that enjoy watching them become the hunted in a wicked little game.
I think my main problem with "Terror Trap" is the script and lack of any real characterization. The most entertaining character in the film is Fahey's Cleveland who seems to be having fun playing the slime ball. Our heroes are pretty stock and there are way too many holes in the plot to make much sense. Though the film does borrow heavily from Nimrod Antal's 2007 film "Vacancy", there is a hint of inspiration here that is never fully explored. The film barely runs 75min which softens the blow and does move at a brisk pace, it still leaves much room to learn more about the characters and flesh out a story that could have benefited with an additional 20min or so added to it. That is something I'm really not used to saying since most films tend to be too long, this one just wasn't long enough. Another issue I had was that we never get see what the villains are capable of or what they do. There is a voyeur aspect, a group gathers in a room and watches the (non-existent) torture. It was missing the grittiness that would have benefited the proceedings. Sometimes less is better but it is really unclear what is actually happening and our heroes are never even put through anything very deadly or horrifying.

Michael Madsen is exactly what you would expect, though his screen time barely amounts to ten minutes. Fahey is the most menacing of the villains and if you're a fan, this is a solid role for him. Written and directed by Dan Garcia, who seems to have a handle on the material, shows promise and has talent. Maybe he had to make sacrifices for lack of funds or numerous other factors may have contributed to the lackluster final product. I have a feeling there was much more to this story than what actually ended up on the screen. I'm going to recommend "Terror Trap" for several reasons. First, for Madsen and Fahey. Madsen is solid here but there is more story to his character that we never get to see and Fahey gets to play the madman role that he does so well. Second, the film looks great and the motel setting works. And third, while much is missing from the story, there is an interesting setup that if explored correctly could make for a very entertaining experience.