Greetings, boys and ghouls! Welcome back to Horror Talk, hosted once again by your friendly neighborhood gorehound and indie filmmaker extraordinaire, Travis Legge. I don't mind telling you that this holiday season has been quite busy around my little slaughterhouse and I couldn't be happier! I have so many projects that I am itching to share with you, but for now we will delve into this week in horror as we do every Wednesday here at Horror Talk! In the meantime to catch yourself up on my various projects (including the upcoming UNRATED slasher film Raymond Did It and my soon-to-launch webcomic Innocent Soul) I humbly direct you to visit the Aegis Studios website where you can find all sorts of news and updates!

But enough about me, let's bring on the blood!
In Movie news, as the year wraps up, release dates for 2011 are being announced, the latest of which is Insidious from director James Wan. Insidious is apparently coming out on April 1st, which make's April Fool's day a rather crowded release date for fans of genre films.
IMDB describes Insidious as "A family looks to prevent evil spirits from trapping their comatose child in a realm called The Further."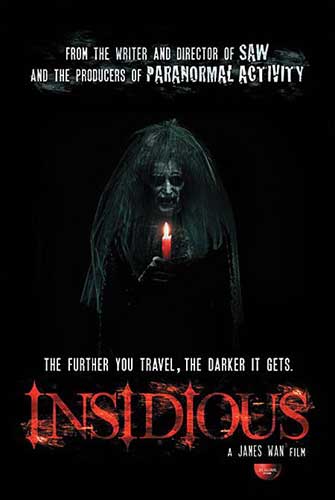 While Insidious sounds very interesting, I am already torn between wanting to see Darren Lynn Bousman's Mother's Day remake (I think it's coming out that day…we ever gonna get an update on this?) and James Gunn's superhero sendup Super. I think Insidious will have to wait for second week-run viewing at best.
In other news, Fallback Plan Productions released a one-sheet and trailer for their upcoming film Absentia this week starring Katie Parker ("Cut"), Courtney Bell, and Doug Jones ("Pan's Labyrinth").
I checked out the trailer and I was blown away! This looks like a truly gripping flick. I, for one, cannot WAIT to see it. You can check out the trailer at www.absentiamovie.com/
At the Box Office, Rare Exports: A Christmas Tale brought in $37,186 on its 21 U.S. screens, which I must admit warms my heart and fills me with holiday cheer. Of course, Black Swan continued raking in the dough, bringing in over $6,000,000 on 1.466 screens.
In DVD news, Ghost House Underground has released some teaser images and the DVD cover of Stag Night, a film they describe as "a truly horrific tale of the New York City underground."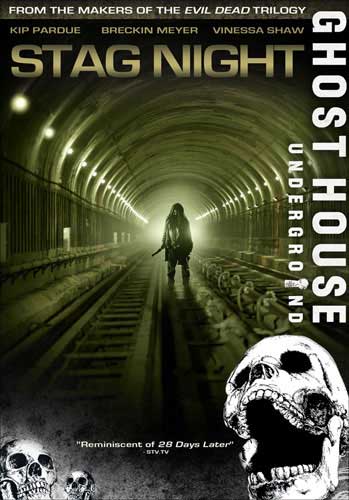 The official synopsis of Stag Night follows: "When a group of friends head to the city for a bachelor party, they stall in an abandoned subway station. They soon finds themselves the target of a gruesome manhunt when a secret gang of cannibal dwellers living in the tunnels discovers them."
Stag Night stars Breckin Meyer (Road Trip), Vinessa Shaw (TV's "House"), Kip Pardue (TV's "ER") and Scott Adkins (X-Men Origins: Wolverine).
On the web, Creepy Six Films has announced their web series Catholic Cheerleaders For Satan that will premiere online January 2nd.
Catholic Cheerleaders For Satan looks like a grand time for any fan of schlocky retro-grindhouse fare. There is a teaser trailer online at the Creepy Six Films website which contains drinking, sex, cannibalism, bloodsoaked lesbian makeouts and murderous mayhem. In short, it's a must-see series!
That ends our time for this week, and this year! I'd like to take this opportunity to thank you all for reading in 2010 and to pledge that 2011 will just kick that much more tail! Now, before we commit burial at sea on this week's article, I'd like to offer Something To Tide You Over through the New Year, by wishing an incredibly Happy Birthday to Ted Danson.
Ted Danson's career has ranged from brilliant to Becker, but over the years he has given us several gems that will forever earn him a place in our hearts. His performance in Stephen King/George Romero's classic Creepshow has ensured that his gurgly waterlogged zombie cry will be in the hearts and minds of horror fans for years to come. While not remotely in the genre, his performance on Bored to Death is simply brilliant, and may well be the best work of his career.
Happy Birthday, Mr. Danson. We at Horror Talk wish you many, many more!
Many Bloody Returns,
Travis Legge