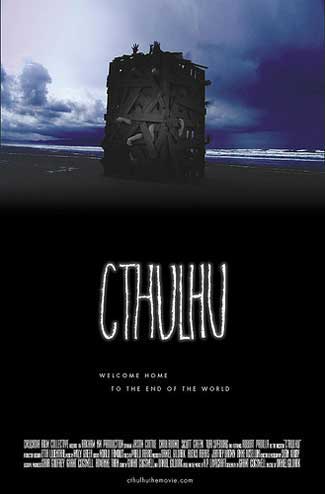 SYNOPSIS:
A Seattle history professor, drawn back to his estranged family on the Oregon coast to execute his late mother's estate, is reaquainted with his best friend from childhood, with whom he has a long-awaited tryst. Caught in an accelerating series of events, he discovers aspects of his father's New Age cult which take on a dangerous and apocalyptic significance.
REVIEW:
HP Lovecraft based films vary from poor to inspiring depending on the team involved with the realization of it. Our latest film takes on the HP Lovecraft mythos head-on by the name of "Cthulhu". For those who have haven't spent the time to research the Cthulhu mythos wikipedia cites it as:
Cthulhu is one of the central Great Old Ones of H. P. Lovecraft's Cthulhu Mythos. It is often cited for the extreme descriptions given of its hideous appearance, its gargantuan size, and the abject terror that it evokes. Cthulhu is often referred to in science fiction and fantasy circles as a tongue-in-cheek shorthand for extreme horror or evil. Cthulhu has also been spelled as Tulu, Clulu, Clooloo, Cthulu, Cighulu, Cathulu, Kutulu, Q'thulu, Ktulu, Kthulhut, Kulhu, Thu Thu,[1] and in many other ways. It is often preceded by the epithet Great, Dead, or Dread.
Lovecraft transcribed the pronunciation of Cthulhu as "Khlûl'-hloo" (IPA: /?k??l.?u?/ ?).[2] S. T. Joshi points out, however, that Lovecraft gave several differing pronunciations on different occasions.[3] According to Lovecraft, this is merely the closest that the human vocal apparatus can come to reproducing the syllables of an alien language.[4] Long after Lovecraft's death, the pronunciation k?-THOO-loo (IPA: /k???u?lu?/) became common, and the game Call of Cthulhu endorsed it. Now withthat info aside the film by the same name dips into the water but never really gets wet.
Our protagonist goes by the name of Russell Marsh (Jason Cottle). A well educated Seattle history professor / gay man who left his small town way of life to pursue a big city path. He returns to his home town on the request of his mothers passing and to oversee the selling off of her estate. Instantly old acquaintances are re-established as well as his estranged relationship with his family, namely his father. His father is the cult leader of a religious sect called Dagon. Never in agreeance with his father, Russ begins to unravel the mysteries of the town and the strange customs that have remained in tact up to this day. In his findings he comes across writings on floors, abstract symbols, pathways, unexplainable occurrences and a fascination with a old lore that revolves around the sea an its Gods. Much of this still unclear and somewhat the workings of fanatics, Russell begins to uncover the truth about the town and it's legacy. His family, rather wealthy occupants of the area seem to have an even greater interest in the old ways. Weird things begin to unveil and a hidden agenda that Russ is determined to uncover.
As he continues his interest in the old ways, he begins to receive warnings, threats and odd appearances by ghostly beings from beyond. Other plot points include a block-shaped object, an old friend who he bonds with and a couple who insists that he impregnate there wife. Most of the film centers firmly around mystery and intrigue rather than straight horror flair.
The film is directed by Dan Gildark and features a smaller role played by Tori Spelling who plays Annie. Dennis Kleinsmith plays Russ's father Reverend Marsh who strangely wears a purple jumpsuit and comes across as a enlightened air head. While cultists often come across that way anyways, it doesn't seem to change much even dealing with his own son.
As the film tries to dig into a mythos that could have really ramped up in symbolism and imagery, that angle never really materializes the way you expect it to. The story tries to go somewhere…… but in he end , I felt like I was robbed of important things that should have made there way into the film.
As strange as Lovecraft subject matter gets, there were alot of holes that viewers should have more to feed from. I "think" the intention of a good film was meant, however the director should learn how to please audiences better when taking on such a complex bit of fiction.
Cthulhu never really becomes much more than an effort without backbone. My recommendation is to pass on this one except if you are a Lovecraft fan who can ride along with your background know-how of the story to tie in all the loose ends.