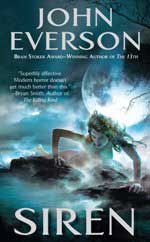 Siren by John Everson
"Night after night, Evan walked along the desolate beach, grieving over the loss of his son, drowned in an accident more than a year before.  Then one night he was drawn to the luminous sound of a beautiful, naked woman singing near the shore in the moonlight.  He watched mesmerized as the mysterious woman disappeared into the sea.  Driven by desire and temptation, Evan returned to the spot every night until he found her again.  Now he has begun a bizarre, otherworldly affair.  A deadly affair.  For Evan will soon realize that his seductive lover is a being far more evil…and more terrifying…than he ever imagined.  He will learn the danger of falling into the clutches of the…SIREN"
John Everson is breathing some much-needed fresh air into my beloved genre. Fresh story lines, memorable lifelike characters, horrifying creatures and enough frights to keep you up late into the evening are only a few of the reasons you should be reading John Everson's work.
In his newest novel Siren, John chooses a mythological creature that is no stranger to those living along the oceans shores in ports of call around the world.
Sirens have been accused of causing many deaths and wrecked ships on rock-riddled shorelines. There are many variations noted throughout history but the results are always the same: she lures in ocean-weary sailors with her voice and beauty, with sinful promises of decadent desires fulfilled.
This no simple monster story, this is a deep heart-tearing journey into every parent's worst nightmare and John's writing tears a deep chasm of sorrow. The atmosphere is pallid, desolate and dark.
In Siren John paints a bleak picture of Evan and Sarah, a very much in love couple who have lost their only son to a horrible drowning accident. Evan, an aquaphobe, watched in horror as his son disappeared below the waves, frozen, his body unable to respond to his son's calls of help due to his phobia. They are now a shell of themselves, drowning in alcohol, self-loathing and depression. John's razor sharp prose puts you in the midst of this shattered family. The sorrow they feel, the pain they are going through is plausible and horribly real.
Ligeia, John's siren, is an exquisite creature, wonderfully crafted and decadently evil. She lures Evan deeper and deeper into her world with her beautiful voice, body and sexual prowess.  When he tries to cut it off and return to the loving arms of his wife…well, you'll just have to read the book to find out. But I will tell you this, there are some immensely terrifying scenes that will make your skin crawl.
John also intertwines a second storyline from the late 1800s about Ligeia that fills out the story wonderfully. You come to know this creature, how and why she does things.
I must say this is one hell of a story and Ligeia is one hell of a creature. The best part being, she knows who and what she is and revels in it. She doesn't deny her powers, insatiable desires and hunger for human flesh. So many people today are trying to give monsters a human side. Why? Their monsters, let them be monsters I say and John's Ligeia is the best monster to come along since Mary SanGiovanni's Hollower.
John Everson is an original voice and rising star in horror fiction today. You are doing yourself a disservice if you don't give his books a try.
Siren should be at the top of your must read list and I highly recommend it.
Once again thanks to Dorchester Publishing for the cover image and synopsis.