Interview with movie maker Ken Cosentino. He is one of the driving forces behind "Crimson: the motion picture" which is currently being shot in Niagara Falls, NY. While the movie is an a low budget independent release, the scale is large, with many action centerpieces.
What made you want to be a movie maker?
I've wanted to be a filmmaker since I was about 9 years old. That's when I first picked up a video camera that my mom was throwing away (she thought it was broken). I saved it from the trash, and it turned out that it worked. I've always loved movies, and the next couple of years I spent a lot of time filming small, senseless skits with my brothers and our friends. I dabbled in special effects for a few years before turning to directing. I guess I sort of knew it was my passion from the feel of things.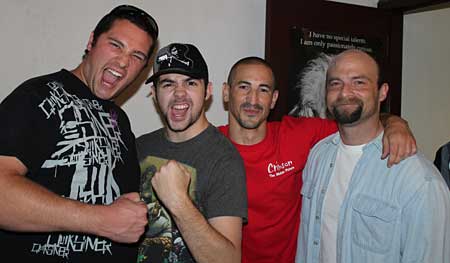 What drove you to what to make a feature film and How did Crimson come about?
I've already made one feature film, called "Break The Sky", a sci-fi/thriller about a worm-hole in a closet. It did pretty well, played in downtown Hollywood and was well received by a packed house. I received a contract with a German film company and a distribution deal. I turned down the distribution deal because I wasn't happy with the movie, and I didn't want it to be the first movie of mine that was distributed. I guess that made me want to do another one… I wanted to try harder… make a good movie. I stuck to shorts for a while, and, while on the set of "The Ghouls Next Door", a cheesy "Evil Dead" type flick, Mike Shimmel came up with the idea for CRIMSON. It was originally going to be a ten minute comedy, but I thought it had so much promise and deserved more. "Break The Sky" only had six actors involved, and was shot in a week with a budget of $500. CRIMSON has about 65 people involved, we've been working on it for 16 months, and the budget is 100 times what I had for BTS.
Is there something about the story that is a theme you are interested in?
Originally, we were making a fun action movie. However, something happened a few months in: I realized we were making a statement. The movie has some deep political undertones. The main character lives in an impoverished, crime-ridden city, much like my own. It has this theme that anyone can go out an be a hero, you don't have to have superpowers… just determination. I like that.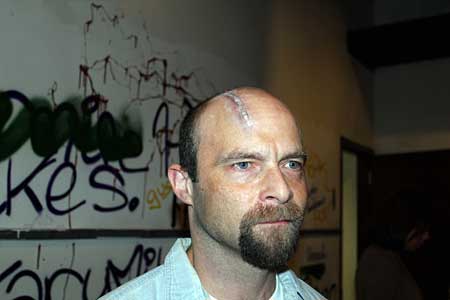 What was the process of casting the film?
4) We started out with a different production company producing our film. The company put out a bunch of ads for auditions, and before we knew it, we were receiving literally hundreds of headshots and resumes online and in the mail. Anyone who sent in a resume through e-mail was asked to mail in a hard copy along with a headshot. This showed us if they were determined enough. We only auditioned those who took the extra step and mailed in the hard copy, which narrowed it down to about half. Auditions consisted of myself, writer Mike Shimmel, actor/title character Mike Leszczynski, our original producer Don Freeman, associate producer Gary Marino, actor James Ventry, and cinematographer Brook D'Angelo sitting at one end of a long conference room. At the other end was a stage set-up with a camera recording the actors. A few production assistants were out in the hallway, where actors were waiting and going over their lines. There were a few long buffet tables, stocked with refreshments (courtesy of one of our investors).
It was all totally legit, and honestly, I'd never done anything like it before. We would call out of the room when an actor's audition was finished, and they would send in the next actor of our choice. Actors came in, did their reading the way they thought they should. Then they read with any changes I'd give them. After that, we sat them down for a little Q & A session. This gave us a good feel for them… who they were. We'd ask serious questions and goofy questions, like "if you could have any superpower, what would it be?" 99% of everyone answered with "the power of flight", which I thought was interesting. After they were done, we'd all shake hands and have them leave. We'd spend about ten minutes discussing amongst ourselves before we sent in the next person. We sat in that room all day for two days, it was a long and tiring process.
A large project like Crimson takes a team, who are some of the important members of your team?
I don't want to sound cliche, but every member of our team is important. Some people work harder than others, but even the smallest job is important. That being said, there ARE some people who really stand out. I'd have to say, with no offense to anyone else, the number one person that comes to mind is James Ventry. When we dumped our previous producer due to creative differences, James stepped up. He founded Little Sicily Productions and became a producer. He purchased the house in which we built most of our sets. I work harder than anyone on the team, since it's my job to, and the guy works just as hard as I do. Except it wasn't originally his job. He never complains or asks anyone else to do it for him, which is very admirable. If it weren't for James, I may have gone completely insane from this project months ago. There are a couple of other people who have helped big time, namely Mike Shimmel and Brook D'Angelo, and two newer additions to our team Dan Carl and Bryan Ball. Whenever Shimmel is on set, it changes the entire game. It's his idea that's taking form, and it brings back that spark in me, like "oh man, we're doing it!"
Any funny stories from the filming?
here are tons. Some are on set stories, others aren't. After our change in production companies, we decided to keep associate producer Gary Marino because we liked him so much. He's kind of our mascot. I remember one particular investment meeting that we went into and he was asked a slew of questions that he wasn't prepared for. He bullsh*tted his way through them skillfully, and James and I knew it the entire time. We walked out laughing.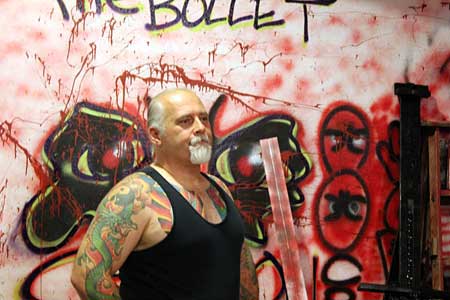 What are your future plans for Crimson and do you have any upcoming projects?
I honestly don't know exactly where CRIMSON will go. We've had a couple of big offers, one which was the topic of much controversy. We haven't accepted anything yet, but there are a few major studios that love the idea and have requested some sample footage upon completion. It's been our goal since day one to enter the Toronto International Film Festival, and we're sticking to it. The movie may be purchased for distribution before then, it may be purchased after, or it may not even get into the festival. There are so many possible outcomes. If it's not picked up for distribution by the time Toronto rolls around, we have a list of festivals we'll be entering. We can always fall back on a previous distribution offer, but we're shooting for the moon. There's a lot planned for the future. If one of the major studios picks it up, they'll want a sequel. We have one in mind. James and I may travel to Europe next summer to meet with my German partner, and my contract states that I have to co-direct his next movie. The project we're really concentrating on is called "MasterShriek Theatre", a horror anthology produced by Justin Sammarco. It should be entering pre-production soon, and we all have high hopes. Justin is very knowledgeable as a producer, and we're pretty lucky to be working with him.
Goodluck to Ken and the Crimson team and hopefully we will be talking about a big premiere in the not so distant future. Should you want more information you can follow Crimson on the net at crimsonmovie.com/