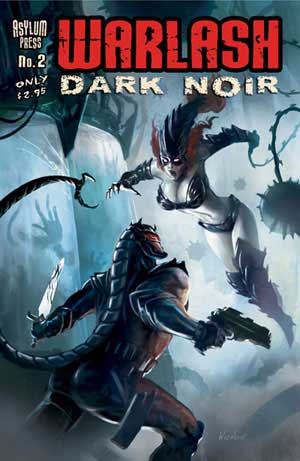 WARLASH: DARK NOIR No. 2
Written by Frank Forte
Artwork by FRANK FORTE, ROYAL McGRAW, STEVE MANNION, NENAD GUCUNJA, J.C. WONG
Cover painted by BRUNO WERNECK
Published by Asylum Press
Publication Date: 2008
Format: Color / B&w – 48 pages
Price: $2.95
Warlash is back with a vengeance. Carrying over from last issue we pretty much have a full does of intense battles and monster killing delivered with full intensity. Myself not liking continuations, I'm rooting for the collection volume that will most certainly come out later. A few of the stories are revisited with a few new battles to entertain your reading time. Now in all honesty, the artwork is really inspiring though out, however the Blade Viper story created by artists J.C. Wong is just amazing! Each frame is its own illustration that screams cool monsters and ass kicking violence. "Blade Viper" herself is one of Warlashes new adversaries who swings here barbed wire whip around like a lethal baton. As he battles lesser demons in destraction she makes it out the back door for more devious intentions.
The "Transformation of Eduard YAN" easily stands out with it's own look and style. More street scum violence and a re-occuring theme of tentacles and sewer induced genetic transformations.
These sort of villains seem to be a common encounter for Warlash who just as easily slices though there appendages with his razor tail head gear. Alot of the time whether intended or not, the influence of the old issue of "Heavy Metal" seemed to pop into my mind. Perhaps it's the pen work or the colors but these short stories are intended for horror fans hands down.
The funny thing is, is while Warlash makes his moves across the tales and the city it seems he's is accumulating quite a collection of opponents set on doing him in. Whether they join forces in he future to bring him down remains to be seen. Though we still root for the hero and his determination to rid the city of demons octopus characters and genetic mutants.
In "Grubbs", the black and white end story, Warlash does his best "Iron man" impersonation fighting a crime lord who wont die. Not your usual scum but a genetic enhanced growing, re-generating zombie looking creep that doesn't mind losing an arm so he can grow it back again. Even a Warlash beheading doesn't seem to stop his rage…though Warlash has no trouble accommodating the left over pieces with some fire and lead.
Let's not forget "Phlegm", who is back in his serpentine form battling below the streets with some more transformations and tongue stretching attacks. At his point we know Warlash is just gonna slice him into bits, its just a matter of time and opportunity.
Fran Forte does it again providing maniacal slice and dice dude stories filled with glorious artwork and eye popping visuals accompanied by his team of Wong, Gucunja, and Mannion. If your not a fan yet, you should be……..give these guys a look and then look twice.
From the fine folks at Asylum Press
You can pick this up and many more read at Asylum Press
Available from www.asylumpress.com