Canada has quite a long and varied history in the film industry – Since the country started giving out grants for using their prestigious country, film studios have been flocking to shoot films there. One of the most filmed categories is horror films.
Today we're going to break down some of the scariest Canadian films around. You can also check out Ontario licensed online casinos If you want another adrenaline-filled form of entertainment with online slots and table games.
So, onto the list:
Pontypool
Pontypool is a totally different type of horror – a zombie film with an incredibly interesting spin as the English language becomes contagious. Often seen as the single best zombie film to come out of Canada, Pontypool follows a radio host and his co-presenter as they try to navigate and figure out a zombie virus sweeping across the nation.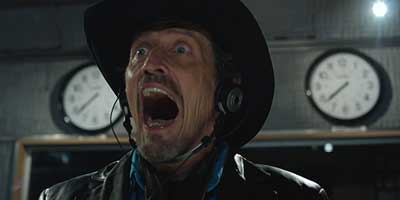 Whilst it's quite a low-budget film, don't let that put you off the tension-filled horror ride. Every penny of the film has been put to use with incredible acting throughout the film.
Hello Mary Lou: Prom Night 2
This slasher was slated to be released as a stand-alone film, but the script got repurposed and jigged around to fit the narrative of the hit Prom Night. If you're a fan of cult horrors of the 80s then this will be your style of film.
The plot centres around a rather promiscuous prom queen coming back from the dead and, in classic 80's horror fashion, causing all sorts of havoc. And by havoc, we mean havoc with a capital H – in just one scene of this gratuitous film, the titular villain possesses a student with absolute carnage ensuing – including throwing the student's mother out of a window and making out with their dad. That's not even the weirdest scene in the film!
The Brood
If it's body horror you want, The Brood fits the bill perfectly. Take a 'brood' of children set out on a murderous rampage, telekinetic mothers and throw that concoction into the middle of Ontario in the winter and you've got 'The Brood'.
There's plenty of gore and body horror here, enough to keep the faint of heart away. Even though it was made at the tail end of the 70s, the shots and themes hold up well even today.
My Bloody Valentine
The quintessential Canadian horror, 1979's My Bloody Valentine has Canada written all over it. Both set and shot in Nova Scotia, it's your typical horror slasher with a small twist: It's Valentine's day.
The film recently got restored so it can be viewed in all of its glory. Whilst the plot and action are mostly formulaic compared to today's horrors, there's enough gore, twists, turns and flashback to keep even the most stalwart horror fan entertained.
Ginger Snaps
Whilst the name might not be screaming 'horror film' at you, prepare for quite the ride when you press play with Ginger Snaps. It's got quite a good ensemble behind the screen – including Canadian horror film starlet Katharine Isabelle – and makes full use of the small-town Ontario setting.
The story of the film is a bit weird – A teen girl called Ginger gets her first period, and along with the usual hormonal changes she also suddenly gets the urge to kill. This plot leads to not just a great horror film, but also a pretty decent coming-of-age flick as well.
Videodrome
From horror legend David Cronenberg (of The Fly fame) comes this hot piece of pop culture. Many people view Videodrome as a video essay on the nature of the human spirit, with people opting for quick jolts of dopamine to avoid the reality of real life.
With equal parts horror and existential dread, you can't watch Videodrome and not come away feeling something.
The Witch
The Witch took the film industry by storm – the stark, bleak setting and quite sensitive subject matter combined to rouse audiences. Filmed in Northern Ontario, Canada was the perfect shoot location for the gritty ambience of the film.
Based on a young womans experiences and how outside influences can affect people, the slow burn turns into a raging inferno extremely quickly. You have to hold on in there for a good hour, but you're greatly rewarded if you do.