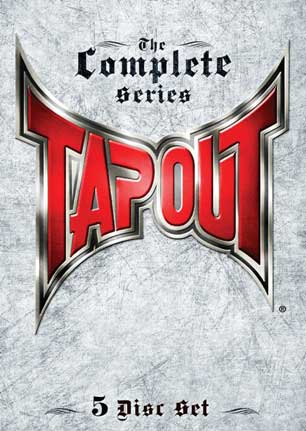 BEFORE YOU FIGHT YOUR WAY OUT…YOU HAVE TO FIGHT YOUR WAY IN!
IMAGE ENTERTAINMENT PRESENTS THE UNDERGROUND CAGEFIGHTING CULTURE THAT IS OVER THE TOP!
TapouT: THE COMPLETE SERIES
The Action Begins on DVD and Digital Download October 19
Chatsworth, CA – They started out by selling t-shirts out of their car at Mixed Martial Arts (MMA) events. Ten years later, the TapouT Crew has its own apparel brand, the largest in the sport. Influential and insane, they used their unique mixed martial madness to develop their own television reality show: "TapouT." On October 19, Image Entertainment will release TapouT: The Complete Series: the program that documents the Crew's efforts to discover the next MMA star. Both outrageous seasons – that's 20 episodes, over 14 hours! – will be available on a 5-DVD set at an SRP of $29.98, and will also be available via digital download.
TapouT: The Complete Series follows the TapouT Crew (the late Charles "Mask" Lewis Jr., Dan "Punkass" Caldwell, Tim "SkySkrape" Katz) as they travel around the country, in search of promising MMA fighters to develop and possibly sponsor. Viewing "bush league" bouts in academies and gyms from Wisconsin to Hawaii, they choose their fighter.
Episodes included in TapouT: The Complete Series are: Diamond in the Rough, Little Fireball, Hot Head, The Search Continues, Charuto, Sergio, Sunshine, Rob Roy, Einstein, Highlights / Preview Episode, Lighty and Glover, Dany Lauzon, Greg McIntyre, Johny and Jake, Albert Manners, John and Julie, Pat Curran, Travis Marx, TJ Cook, and Mike Campbell.
Each exciting episode includes unbelievable fighters with incredible stories, leading up to a dramatic conclusion as each fighter gets one shot to impress the crew and show off his skills in the cage. Featuring TapouT friends old and new, including MMA superstar Chuck Liddell and UFC President Dana White, TapouT: The Complete Series is a must-have for any mixed martial arts fan!