One of the last things you would do is to associate casinos with horror movies. The genre of movies is often associated with a tense atmosphere. Sometimes, the viewers are gripped with great fear as the actions leave a great impression on their psyche. Horror movies have been combined with some bit of casino gambling. In other words, scenes that involve casino gambling have been used effectively in some horror movies, both in the past and present times though they are difficult to come by.
The Haunted Casino (2007)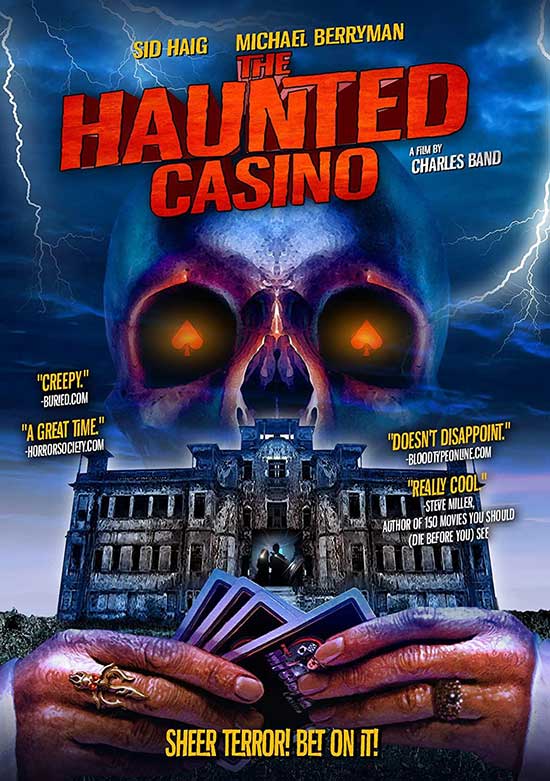 As the title implies, the movie is awful as it tells the story of a rundown casino haunted by "The Word," a mobster who wants to settle some old scores through some bloody massacre. The casino, inherited by a group of unlucky individuals, was situated on the outskirts of Vegas and is a bit campy and odd. The movie features a lot of gambling and casino scenes, some of which kids were forced to gamble for their souls. It was originally titled 'Dead Man's Hand,' which is a term for a very unlucky poker hand.
Unlike the usual horror flick, the gangsters in the movie are considered to be funny rather than scary, though there are some scenes that would make you jump up in fear. Though the movie has low production value, it is still watchable and would be a major interest for fans of horror. According to some critics, the movie isn't a massive blockbuster. Notwithstanding, fans of campy horror movies have been able to discover some qualities that make it enjoyable.
After this movie you might feel the urge to play some casino but perhaps not in a haunted casino, right? Luckily, you'll find these casino sites a bit more joyful which OLBG has gladly put together for anyone to try out.
The Leprechaun 3 (1995)
Leprechaun is a series-based horror movie series that started in the 1990s and featured a total of eight films. The first six series feature Warwick Davis, a murderous leprechaun who was on a resolved mission to search for his pot of gold across the United States. The third movie is set in Las Vegas, and it is natural to think that casinos would be involved. In other words, casino and gambling constitute the major backdrop of the movie.
A pawnshop owner is given a leprechaun statue with a gold coin around the neck. However, the gold is not meant to be removed; otherwise, there would be chaos. It is therefore not surprising that the shop owner defies the order. He removes it and the statue becomes the leprechaun murdering everyone just to have his gold back. The Leprechaun, of course, plays a game of craps at a casino in the city.
Generally, the movie was not accepted. However, many fans considered the first movie great as a result of the black humor and campy vibe.
Remains (2011)
Remains is a zombie horror movie that was released in 2011. Its horror element is revealed in zombies within a post-apocalyptic America after an accidental nuke explosion. The movie tells the story of a group of casino employees in a fictional Reno Casino. The employees and some other people survived the attempt to turn them into zombies. They were able to achieve this by fortifying their building against zombie's attacks.
Though the movie isn't scary, it is a movie about casinos. There are many scenes where the survivors play some card games during their pastime. This is, of course, laced with gambling.  It is good to commend the setting of a zombie movie within an unusual location – a casino.
The Resident Evil series is a source of inspiration for games and movies. While the games date back to 1996, the first movie adaptation was in 2002. The movie stars Mila Jovovich and tells the story of flesh-eating zombies overrun the city of Las Vegas while a rescue team is on the lookout for survivors. It is also about uncovering a conspiracy.
That the movie is set in Las Vegas makes the presence of casinos and gambling activities inevitable. The gambling-based scenes in the movie are well received by expert gamblers. The Resident Evil franchise seems to be enjoying continuous action sequences and its end is not any way close.
13 Tzameti (2005)
13 Tzameti is a French-Georgian horror/thriller movie that explores Russian roulette, a game of chance. The hero of the movie, Sebastien, is a poor immigrant that works as a construction worker in France and gets himself involved in an event that threatened his life. He receives a sealed envelope, detailing a strange job description that could make him wealthy.
As a desperate man, he finds himself in a twisted, life-threatening situation – an isolated cabin where a criminal syndicate hosts a deadly gambling tournament. The game allows players to take revolvers with a bullet and shoot at their opponent. The gambling aspect of the game involves the situation where spectators place bets on the player to remain alive after each round. The number of bullets increases as the rounds progress.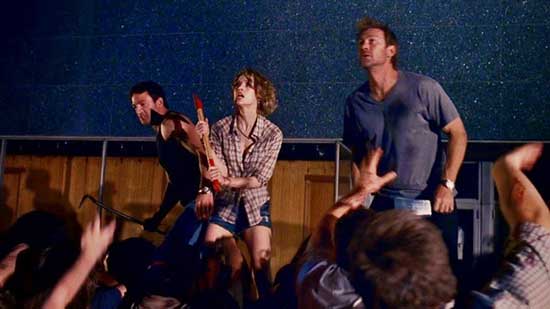 Spirits of the Dead (1969)
Spirits of the Dead is a class movie anthology that tells three tales about Edgar Allen Poe, a poet and master of horror. It also features other stars such as Alain Delon, Brigitte Bardot, Jane and Peter Fonda, and Terence Stamp. The second story makes the movie get classified under this segment. It is about an Austrian officer that was stationed in Italy in the 1800s.
The gambling scene features Alain Delon and Brigitte Bardot who get involved in gambling that involves high stakes.
Conclusion
There is nothing as exciting as binging on horror movies with dashing gambling scenes. Even if you are not a fan of horror but have a great interest in gambling, then the compilation here will make your weekend an enjoyable one. Note that the movies here are just a few of the numerous movies that have featured casinos and gambling. Though horror movies could get terrifying, they also bring great excitement and suspense that can leave you in an ocean of guess.