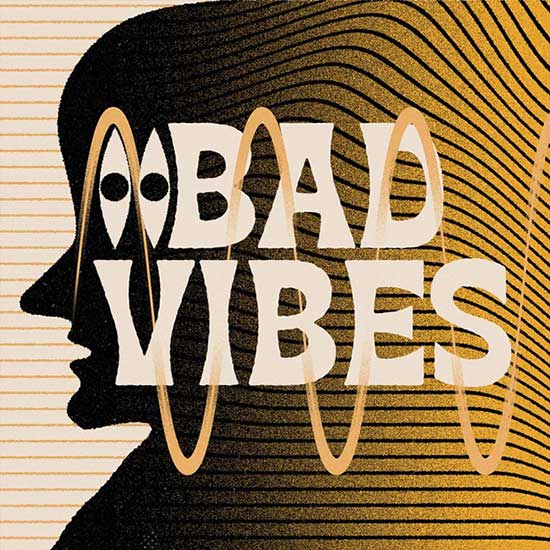 QCODE ANNOUNCES HORROR ANTHOLOGY SERIES, BAD VIBES, NARRATED BY JUSTIN MCELROY
Created by THE EDGE OF SLEEP writers Jake Emanuel & Willie Block, the 8-Episode Podcast Series Premieres Today on Apple Podcasts, Spotify or Wherever Podcasts are Available
Listen to the Teaser
HERE
(Apple Podcasts)
(March 29, 2021 – Los Angeles) – Podcast and media studio
QCODE
announced today the premiere of a new horror anthology podcast series, BAD VIBES, narrated by Justin McElroy. Created by THE EDGE OF SLEEP writers Jake Emanuel and Willie Block, the first episode is available starting today on Apple Podcasts, Spotify or wherever podcasts are available.
BAD VIBES brings the beloved horror anthology to the audio format – merging the nostalgia of THE TWILIGHT ZONE with the dark, modern twists of BLACK MIRROR. Each episode, written by a different writer, will deliver a horrifying new story in a unique setting of what is likely a parallel universe. Justin McElroy voices Mr. Boogey, our frightfully delightful host who guides listeners through each story, leading us in and out of the darkness.
"Every week I will tell you a story in exchange for your fear. For dread and terror is the sweet, sweet, sustenance I crave and I am very hungry," said Mr. Boogey (Justin McElroy). "Each tale is more chilling than the next and I will be there to lead you in and out of the darkness. So take a break and join me, won't you?"
Inspired by classic horror anthology shows like TALES FROM THE CRYPT, NIGHT GALLERY and ARE YOU AFRAID OF THE DARK, the series whimsically whisks the listener away into dark crevices of reality with a dark sense of humor. In Episode 101, "After the Beep," a girl struggling with the death of her parents, is torn about deleting their final voice mail. In the message, she can hear the car crash that killed her parents. When she finally decides to delete the message, she starts receiving cryptic new voicemails – while her friends and coworkers think she's starting to unravel, the girl believes she's receiving voicemails from her parents beyond the grave. Other episodes follow a cursed 16th century fiddle, a psychedelic adventurer, and a perverse podcast where guests are forced to humiliate themselves for money.
Justin McElroy is represented by CAA. Jake Emanuel and Willie Block are represented by Rob Goldman at McKuin, Frankel, Whitehead.
Listen to BAD VIBES at Apple Podcasts and Spotify or wherever podcasts are available.