The Anix Releases
"Want U Like I Do"
Track & Lyric Video
Out Now Via FiXT
The Anix's release schedule remains red-hot with the enthralling, bass-heavy new track, "Want U Like I Do" accompanied with a mesmerizing new lyric video. Passionate lyrics and The Anix's rich sonic atmosphere form a tanalizing listening space that will pull you in and refuse to let go.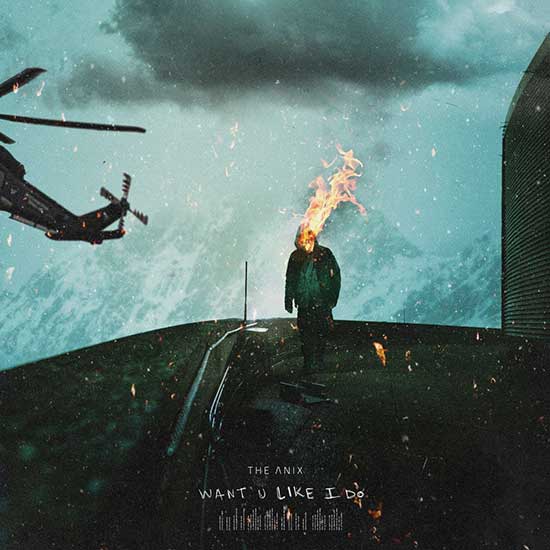 "This was the first song that I have ever made which was entirely developed during a dream. I woke up in the middle of the night with the drums, bass, synths, vocal melody, tempo, and even the synth sounds and drum samples. I have never experienced this in my 25 years of writing songs. I've had melodies come to me, but never an entire multi track song. I ran out of bed and into my studio, and within about 1 hour I had the song completely finished. It felt like I was just recording a live version of a song I already knew! This is a bass heavy song which I imagined would be played in darker clubs. Lyrically the song explores the dark fantasy of pursuing a love interest, juxtaposed against high speed street racing and time travel." – The Anix
"Want U Like I Do" is out now on all platforms from independent electronic rock label FiXT.
Stream / Purchase "Want U Like I Do":
fanlink.to/wntU
Originally founded in 2001 by Smith, and later joined by brother Logan Smith with longtime friend Chris Dinger, the group toured the Hollywood rock club circuit for several years. After writing hundreds of songs and playing countless shows, the band signed a deal in 2008 to record their first full-length studio album titled Demolition City. The band then landed a deal with The Diesel Management Group and toured throughout Europe on the "Rocket Science Tour" with electronic masterminds Apoptygma Berzerk.
In 2011 The Anix signed a record deal with Cleopatra Records to record their second studio album titled Sleepwalker. In 2016, The Anix began the process of reinventing themselves, shifting away from a touring band into a studio project. After a full year of development, the group emerged with Ephemeral in March 2017 as their 2nd album on Cleopatra Records.
In 2018, The Anix completed their metamorphosis from band to solo project as front-man & songwriter Smith signed with FiXT, the artist-owned/operated independent record label of electronic-rock pioneer Klayton (Celldweller, Scandroid, Circle of Dust). Since the signing, The Anix has gone from 25k Spotify monthly listeners to well over 100k and has landed in numerous Spotify editorial playlists such as Rock Hard, Sludge, All New Rock, and Rock Covers. Focusing on releasing consistent material since signing with FiXT, The Anix released the full-length album Shadow_Movement in 2018, Order / Disorder and Hologram in 2019, and GRAPHITE in 2020.