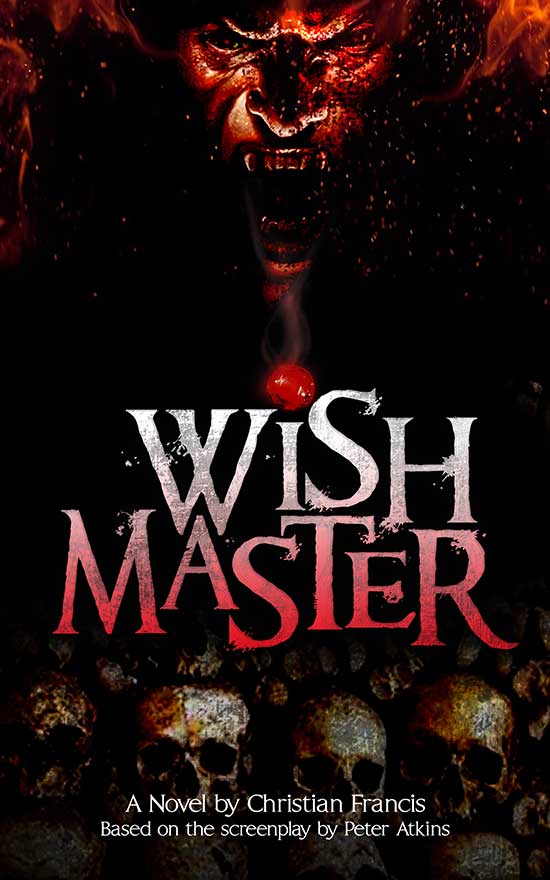 Wishmaster Returns!
In the fall of 1997, Wes Craven presented the world with a brand new Horror franchise.
Written by the creator of Hellraiser 2, 3 & 4, Peter Atkins, and directed by one third of the legendary KNB Effects Group, Robert Kurtzman – Wishmaster was an instant genre hit upon release, and went on to spawn three sequels, action figures and even a staged musical!
The movie introduced horror fans to a new and enduring villain – the Djinn. A demonic genie who would offer wishes but would only grant nightmares.
Wishmaster showcased its tale with an abundance of imagination and excitement, establishing itself as a classic worthy of its creator's lineage – yet unlike many of its contemporaries, it never received a novelization.
Now 23 years later, Encyclopocalypse Publications step into the fray to right this wrong. Encyclopocalypse has partnered with Peter Atkins to bring an original novelization to life. The book,  written by Christian Francis, is based on Atkins' original screenplay.
RELEASE DATE: 31st January 2021
ISBN: 9798567687796
FORMAT: Paperback/Kindle
(Audiobook coming in 2021)