Scandroid Releases
Double-Album Experience
The Darkness and The Light 
Including "Dark Tide" (feat. Megan McDuffee)
Out Now via FiXT Neon
The culmination of Scandroid's epic double-album experience The Darkness and The Light is available now on all platforms from FiXT Neon. The 19-track album showcases Scandroid's unique take on '80s inspired modern music, ranging from '80s metal, synthwave, indie-pop, chillwave and cyberpunk darksynth.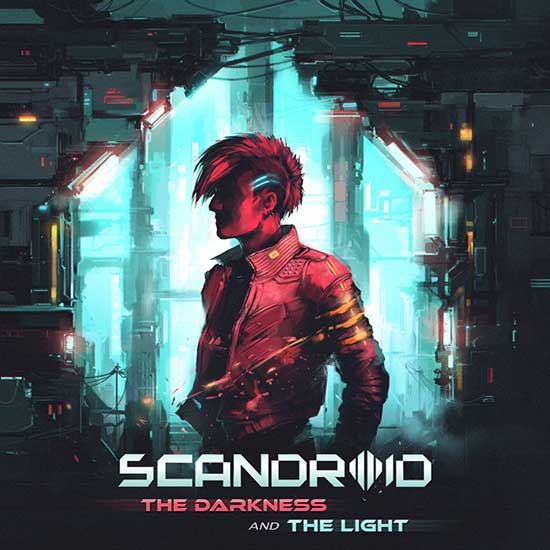 Gathering all the previously released songs from the two albums The Darkness and The Light along with new singles and tracks that are exclusive to this release, this collected body of work adds recent singles "Nighttime," "Astor Place," and "Awakening" along with the new songs "Limelight", "Less Than Zero" (feat. King Protea), and "Dark Tide" (feat. Megan McDuffee).
Listeners can enjoy the complete double album on digital as well as CD digipack along with 2 collectible art variants on cassette. Scandroid's The Darkness and the Light is out now from independent retro synth label FiXT Neon.
Stream / Purchase: The Darkness and The Light
fanlink.to/TDaTL
The synthwave project of Los Angeles-based artist and producer Klayton, Scandroid is a love letter to the '80s delivered with modern production and a genre-crossing set of influences. Best known for his work on the multifaceted project Celldweller, Klayton has found a new inspiration for his densely layered compositions by combining '80s pop sensibilities with a host of other creative ideas, ranging from classic darkwave to modern electronic music.
The result is an immersive audio experience infused with imaginative sci-fi lyrics and atmosphere. In addition to creating original songs under the Scandroid name, Klayton has also brought his distinctive style to some of his favorite tracks from the '80s, including Michael Jackson's "Thriller" and Tears for Fears' "Shout."
Scandroid's music has cracked the Top 10 on the iTunes Electronic Albums chart and the Top 5 on the Billboard Electronic Albums chart. Along with his original songs streaming in the millions, Scandroid's music has also been the subject of several popular remixes, including a Dance with the Dead remix of "Neo-Tokyo" that has accumulated 12 million combined streams between Spotify and YouTube alone.
Following the Scandroid self-titled debut album in 2016, Klayton released a second full-length album, Monochrome, in 2017. He then embarked on the most ambitious project in Scandroid's history to date, releasing the first half of an epic double album in The Darkness in 2018. The second half, The Light, was released in late 2019 with the complete album, The Darkness and The Light, dropping in December 2020.