Enter the surreal dystopian prophecy of 2020: Greatland, a world where boys are married to trees, cats and dogs run for President and the Virus has become a new religion. An acid roller coaster ride into the future after Covid-19, on a mission to debunk 2020!
GREATLAND, a dystopian fantasy by writer-director Dana Ziyasheva, will be released on Amazon VOD November 1, 2020 by Indie Rights.
Filmed in Los Angeles in a futuristic vintage style, GREATLAND stars Academy award-nominee Eric Roberts, Nick Moran (Lock Stock and Two Smoking Barrels), J.P. Manoux (Veep), former boxing champion of the world Shannon Briggs, and horror icon Bill Oberst Jr (The Devil's Rejects), alongside up-and-coming young actors Arman Darbo (And Then I Go) and Chloe Ray Warmoth (Fuller House).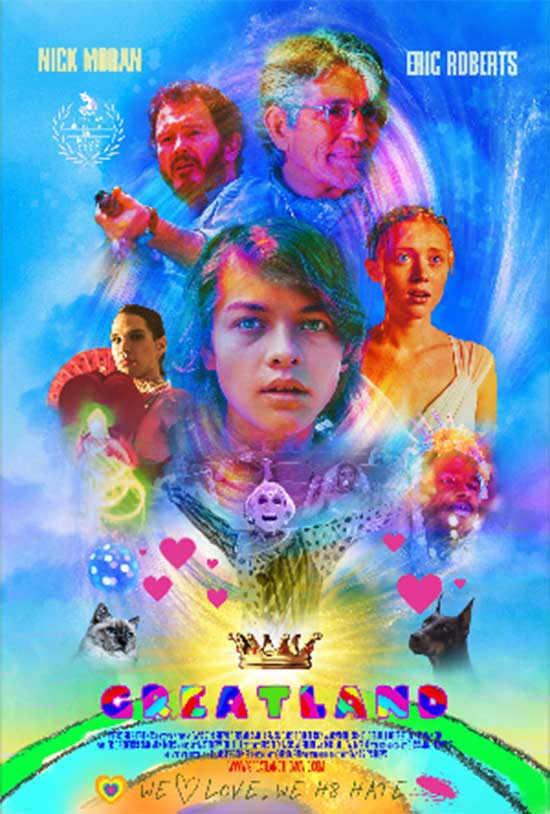 Set in an imaginary country dubbed the birthplace of love and endless source of fun, GREATLAND tells the tale of Ulysses, a rebellious non-binary teen on a mission to save his childhood sweetheart as an absurd election and a deadly virus wreak chaos and violence.
GREATLAND is quickly becoming something of an urban myth. Its COVID-inspired teasers, released at the height of lockdown in April/May, went viral generating millions of views on YouTube and TikTok, conspiracy theories and critical reactions ranging from "totally WTF?!!!" to "Bat**t brilliance!"  Shown at the Moscow International Film Festival (MIFF) early this month, GREATLAND was hailed as "the most flamboyant and unusual canvass" by the festival organizers, with "brain-blown" movie critics calling it "stunning, mesmerizing with its courage and exuberant imagination" "among the most unforgettable movies of the year" and liking Ziyasheva's creative ambition to that of Timur Bekmambetov, the President of the MIFF Jury — both are ethnic Kazakhs and have Hollywood on their resumes.
GREATLAND is Ziyasheva's sophomore feature. The LA-based indie film-maker is a former journalist and a UNESCO diplomat with 20 years of development work around the world: Her drama "Defenders of Life" about child-brides set in the indigenous Ngäbe tribe of Costa Rica, prompted a national ban on under-age marriages and is available on Amazon Prime. Harvard-educated Igor Darbo who produced both Ziyasheva's features under his Popcorn & Friends banner, counts on audience and movie critics' sense of humor and detachment, to view GREATLAND as a farcical crash course in social engineering.
GREATLAND on Amazon VOD November 1, 2020.