First Clip from THE SPECIAL – Now Available on VOD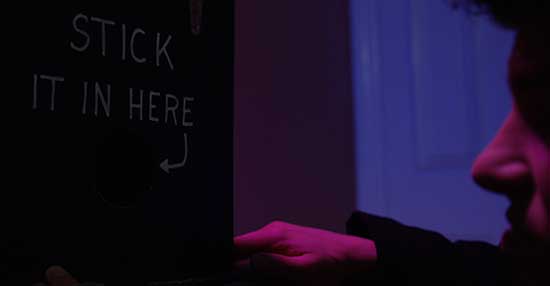 We wanted to share with you the first clip from the supernatural horror thriller THE SPECIAL, now available on VOD.  It stars Davy Raphaely (ZK: ELEPHANT'S GRAVEYARD), Dave Sheridan (SCARY MOVIE) and Sarah French (BLIND), was written by Mark Steensland (LOVECRAFT'S PILLOW) and James Newman (STILL WATERS).
In the film, after Jerry (Raphaely) explains to his best friend Mike (Sheridan) that he thinks his wife (French) is cheating on him, Mike convinces him to cheat back and takes him to a mysterious broth for "The Special." Then things take a turn for the worst…
**The clip is that soon to be infamous moment as Jerry discovers what "The Special" is, or rather, what it is not….
THE SPECIAL
Horror/Suspense
USA / 2020 / Not Rated
Available on VOD October 13, 2020
Distributor: Red Hound Films
Production Companies: Bricktop Productions, Everything's Fire
Director: B Harrison Smith
Writers: Mark Steensland and James Newman
Starring: Davy Raphaely, Sarah French, David Sheridan
Producers: Alexander Bafer, Doug Henderson
Run Time: 94 minutes
Synopsis:
Suspecting his wife of infidelity, Jerry retaliates at the urging of his best friend who takes him to a mysterious brothel for "The Special."  But everything has a price, and Jerry's night of pleasure sets off a dark chain of events as he spirals into obsession – because once you've had "The Special" you can't go back to the ordinary.
Website: www.redhoundfilms.com/films/the-special
Official Trailer (red band): youtu.be/1I4G2ce3iUg