SOME MONSTERS ARE VERY REAL
HAUNT (2019), the "grisly horror gem" from the writers of A Quiet Place and producer Eli Roth, is getting the star treatment from Ronin Flix with a new 2 Disc Collector's Edition Blu-ray just in time for Halloween
New 2 Disc Collector's Edition Blu-ray will include the original CD soundtrack by tomandandy, movie poster reproductions, enamel pins and more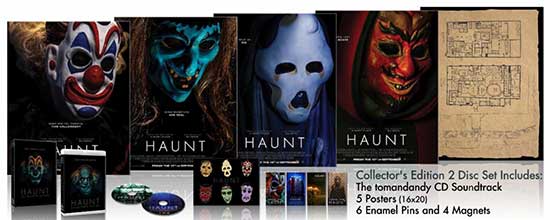 Now on Blu-ray for the First Time
Ronin Flix, in partnership with Momentum Pictures, is releasing a new 2 Disc Collector's Edition Blu-ray of the "grisly horror gem" (Richard Roeper, Chicago Sun Times) from the writers of A QUIET PLACE and producer Eli Roth, HAUNT (2019),just in time for Halloween. Available on Blu-ray for the first time, the commemorative 2 disc set will treat fans to the Original CD Soundtrack by tomandandy, four 16" x 20" movie poster reproductions, a 16" x 20" reproduction of the haunt map, six enamel pins featuring the eerie costume masks worn by the villains in the film, four 2" x 3 ½" replica VHS box-style magnets, and over 5 hours of special features including a NEW To Escape the Haunt: The Making of HAUNT featurette. A single disc version will also be available.
Ronin Flix is proud to add HAUNT (2019)to it's roster of fan favorites as its third Blu-ray release, following a highly praised first release of HARDWARE. With two new HAUNT (2019) Blu-ray editions available for pre-order exclusively at
roninflix.com
as of October 1, 2020, the safest way to celebrate Halloween this year will be at the HAUNT!
"Scares are plentiful and run a gamut, making good use of the
various creepy, claustrophobic, icky and unpleasantly surprising frights of an inventive haunted-house attraction." – Dennis Harvey, Variety
"Convincingly creepy while also slightly thought-provoking,
it warns about deceiving facades, because what hides underneath masks is possibly much worse." – Carlos Aguilar, Los Angeles Times
HAUNT (2019): On Halloween, a group of friends encounter an "extreme" haunted house that promises to feed on their darkest fears. The night turns deadly as they come to the horrifying realization that some nightmares are very real.
Video: High Definition Blu-ray 1080p Widescreen Presentation (2.35:1)
Audio: DTS-HD Master Audio 5.1
Subtitles: English SDH
Special Features:
NEW To Escape the Haunt: The Making of HAUNT featurette including interviews with writers/directors Scott Beck and Bryan Woods, actors Katie Stevens, Will Brittain, Andrew Lewis Caldwell, Lauryn Alisa McClain, Schuyler Helford, Justin Marxen, Chaney Morrow, Special Makeup Effects artist Chris Bridges and co-composer Andy Milburn (tomandandy)
NEW Audio Commentary with actors Justin Marxen (Clown), Chaney Morrow (Ghost) and Damian Maffei (Devil)
Audio Commentary with writers/directors Scott Beck and Bryan Woods, Behind the Haunt, The Sound of Haunt, Deleted Scenes with an introduction by Scott and Bryan
Popcorn Frights Q & A with Scott, Bryan and some of the cast
Egyptian Theatre Premiere Q & A with Scott and Bryan, moderated by Eli Roth
Short Film: The Sleepover – Scott and Bryan's first film
Director's Diary
Theatrical Trailer
STREET DATE: October 22nd, 2020