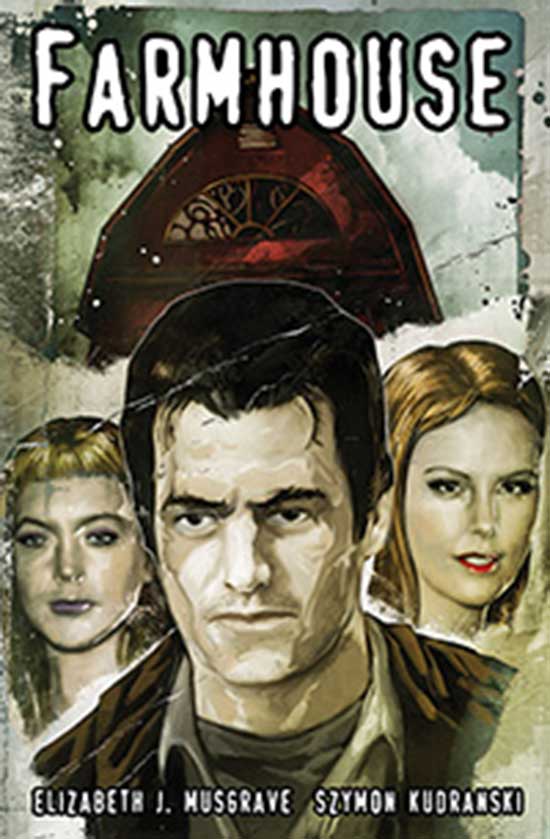 The veteran horror, sci-fi, and action publisher releases new psychological neo-noir thriller on the newly relaunched premium library service.
Los Angeles, CA –Asylum Press has announced a new distribution partnership with LibraryPass for its ComicsPlus platform which curates high-interest, immersive digital comics, graphic novels, and manga for K-12, Public, and Academic libraries. Their relationship kicks off with the new graphic novel title, Farmhouse, a thriller written by playwright Elizabeth J. Musgrave (Soundman, Hell Comes To Hollywood) and illustrated by Szymon Kudranski (Spawn, The Avengers).
Asylum Press, producer of premium comic books and graphic novels within the horror, science fiction, and action genres, is delighted to be working with LibraryPass, and is encouraged by the possibilities of reaching new readers through public libraries and ComicsPlus.
"I founded Asylum Press because I am first and foremost a storyteller," says founder Frank Forte. "The possibilities afforded to publishers like myself by ComicsPlus are thrilling. Asylum is poised to reach thousands of new fans, and we decided to put our best foot forward by starting our relationship with the release of Farmhouse.
Farmhouse is the story of a drifter named Sam Corneile who returns home to take a job at a local mental institution where he discovers a group of patients being exploited under an art therapy regimen. While there, he falls for Helen, a feisty but troubled woman who dares him to confront his past. This psychological thriller examines what lurks deep within the human mind, both sane and insane.
"This was my first graphic novel and it was very exciting to see it come to life visually", explains writer Elizabeth J. Musgrave, "Szymon really nailed the dark and gritty feel of the characters and the mental ward. I am so excited for Library Pass readers to discover this world."
"Farmhouse was a challenging story for me to illustrate, it provided me the opportunity to work in a different style that complimented the setting", says Szymon Kudranski, "If anyone is interested in how my work looked before Spawn and Penguin, they should check out that book."
"We're excited to help publishers reach new audiences through public libraries," says LibraryPass CEO, Ian Singer. "Interest in digital comics has increased dramatically, and with ComicsPlus, librarians can offer patrons simultaneous, unlimited access to Asylum's catalog without concerns about breaking their materials budget."
Forte adds that Farmhouse is such an important title for Asylum, that he's making sure fans everywhere have access. To that end, beyond ComicsPlus, you can enjoy the graphic novel on a variety of other services, including ComiXology, Kindle, and Webtoon. "We want the widest possible audience to sample Farmhouse, so please read wherever you feel most comfortable, but do consider supporting your local library if you can through ComicsPlus."