Top Ten Horror Summer Films by VONT
When you think of summer time, memories of being terrified by JAWS in the 1970's and Jason Voorhees killing spree in the 1980's immediate come to mind.   The tradition of summer horror movies is alive and thriving in 2021 and here's our list of favorites sponsored by our friends at VONT!
10. A Quiet Place Part II
Following the deadly events at home, the Abbott family must now face the terrors of the outside world as they continue their fight for survival in silence. Forced to venture into the unknown, they quickly realize that the creatures that hunt by sound are not the only threats that lurk beyond the sand path.
– IN THEATRES NOW
9. Everybody Gets Stabbed
Clive likes Lauren. Lauren has no idea. Desmond is in love with Clive. Clive has no idea. Lauren and her boyfriend Tom love each other very much. Clive doesn't like Tom, because Clive was the one who put in all the friend coins and wasn't rewarded with a relationship. So, with Desmond's help, Clive decides to start killing all of their friends and blame it on Tom, and then maybe Lauren will realize she really loves Clive. And maybe if they hang out together Clive will fall in love with Desmond. It's not the greatest of plans. And they're not the greatest of murderers. But they're going to give it a red hot go, because mediocre men always rise to the top. Everybody Gets Stabbed is a very dark comedy exploring the subject of toxic masculinity, sexism, and a whole host of other issues.
– RELEASE DATE JUNE 29, 2021
8. M Night Shyamalan's OLD
A thriller about a family on a tropical holiday who discover that the secluded beach where they are relaxing for a few hours is somehow causing them to age rapidly reducing their entire lives into a single day.
– RELEASE DATE JULY 23, 2021
7. Miranda Veil
When an aspiring serial killer abducts his first victim, both are shocked to discover that she cannot die.
– AVAILABLE ON DEMAND NOW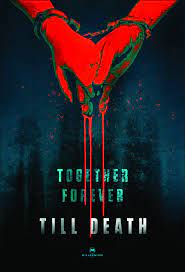 6. Til Death
After a romantic evening at their secluded lakehouse, a woman wakes up handcuffed to her dead husband. Trapped and isolated in the dead of winter, she must fight off hired killers to escape her late spouse's twisted plan.
– RELEASE DATE JULY 2, 2021
5. The Conjuring: The Devil Made Me Do It
Paranormal investigators Ed and Lorraine Warren take on one of the most sensational cases of their careers after a cop stumbles upon a dazed and bloodied young man walking down the road. Accused of murder, the suspect claims demonic possession as his defense, forcing the Warrens into a supernatural inquiry unlike anything they've ever seen before.
– IN THEATRES NOW
4. Crackhouse of the Dead
After a bust goes bad an undercover cop must put his differences aside and ban together with a drug dealer,a prostitute, a crackhead and other urban misfits inside a Crackhouse to survive the first night of the zombie apocalypse.
– IN THEATRES NOW
3. The Forever Purge
On the run from a drug cartel, a Mexican couple battle vicious thugs who plan to continue the violent tradition of the now-outlawed Purge.
– RELEASE DATE JULY 2, 2021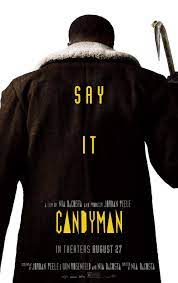 2. Candyman
Skeptical graduate student Helen Lyle (Virginia Madsen) befriends Anne-Marie McCoy (Vanessa Williams) while researching superstitions in a housing project on Chicago's Near North Side. From Anne-Marie, Helen learns about the Candyman (Tony Todd), a knife-wielding figure of urban legend that some of her neighbors believe to be responsible for a recent murder. After a mysterious man matching the Candyman's description begins stalking her, Helen comes to fear that the legend may be all too real.
– RELEASE DATE AUGUST 27, 2021
1. ROOM 9
Long ago, Room 9 of the Johnson/Bedford Inn, located in a remote small town, was the site of a gruesome double murder. Decades later, with the town terrorized once again by a string of bloody ritual killings, a mysterious woman named Star arrives to investigate and suffers bizarre flashbacks related to the inn's slayings. Is she connected to the killings…or the inn's next victim?
– RELEASE DATE JULY 20, 2021
Sponsored by Vont LED Camping Lantern 
If you are in the dark and are in need of an affordable and reliable light, accept no substitute, let the Vont LED Camping Lantern lead your way through the darkness… your life just may depend of it.
Equipped with 30 crazy bright leds, this compact lantern cuts through 360 degrees of darkness on the stormiest, dimmest nights.
For more information
www.vont.com/